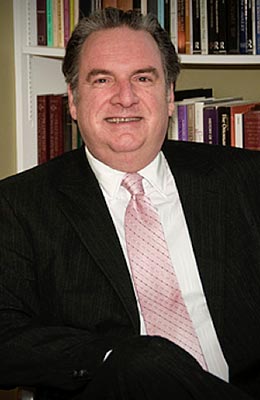 It was decades ago now, but Professor Michael Bienkowski seems to remember the moment like it was yesterday. Waking nightmares often have this effect on us.
Professor Bienkowski had just earned his MBA and was interviewing for a position at a large Boston insurance company. As part of the process, he found himself seated in a room full of insurance people.
"I looked around," he remembers, "and I said to myself, I've got to get out of here!"
Clearly, it was time to return to an earlier and more agreeable vision he had held for his life: teaching.
That's the path that would eventually lead him to what was then the Junior College of Albany, and what has become a 20 year teaching career at Sage. Today, Professor Bienkowski is chair of Interdisciplinary Studies.
For him, teaching has always been a vocation more than a job, and his goal in the classroom has always been to help students learn how to think, and to make connections where they hadn't before.
His own education had been marked by an eclectic approach to learning. His college major was Music Theory & History. He then went on to earn an MBA, because he was interested in the business side of the arts. "I loved the science of money," he says. "I didn't want so much to make money as I wanted to study it."
Professor Bienkowski's classes are always designed to help students develop the skills and abilities necessary to succeed in a constantly-changing world, and to embrace a collaborative approach to problem solving.
"I like playing in the intellectual sandbox," is how he puts it. So that's where he takes his students, so they can play there together.
He also likes Sage. Like's and appreciates the community of people. He remembers once when an internationally acclaimed businesswoman came to campus and said: "I've been to a lot of places. There is a unique closeness of faculty and students here. It's unusual."
Professor Bienkowski is drawn to the unusual and unexpected. He sees his time with students as the moment to share this passion with them.