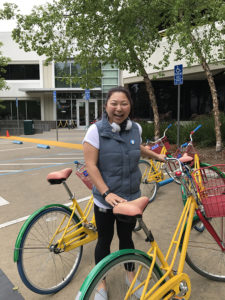 How would you describe your time at Sage?
Sage was an incredible period of growth, self-reflection and strong mentorship for me.
What are you doing now?
Today I work for Google, not too far removed from the academic program I studied at Sage — Business Administration with an emphasis on corporate social responsibility.
How did you enter the technology industry?
It is a winding path that doesn't really make a ton of sense when you view it on a micro-level. However, everything I have done up until this point has prepared me to work in this space.
I started off working in the mental health field as a residential case manager. It gave me the opportunity to advocate for my clients' rights. The next phase of my career, I ended up working in the localization field. This was my first move to working with tech tooling and project management. It fed my passion for connecting people across cultures, countries and languages. I loved it and stayed in that space for a number of years.
There was a point when I wanted to expand outside of the project management role I was in and started looking for new opportunities. I found an opportunity at Google, on the localization team. I accepted the role and moved out to California. After four years, I was ready for my next set of challenges. I had the fortunate opportunity to develop strong stakeholder management, program management, internal tool creation and cultural curation skills out of my work experiences. All of these have been important in allowing me to do my best for my projects and my team in my new role.
How did your education at Sage benefit you overall? 
Sage, and in particular, my professors gave me the foundation to pursue what I love in life. Experiences with Professors Eileen Brownell and Chrys Ingraham, for example, the Border Witness delegation trip after NAFTA was enacted, planning and sharing in local social responsibility fairs in our community, having the opportunity to meet and be mentored by Dame Anita Roddick and creating a special space for women to learn and grow together in the Upton Center were all experiences that enhanced and connected me not just to the IQ-focused learning but deeply with the emotional quotient as well. This has played an absolute critical role in my ability to succeed in all of the challenges I have taken on.
Where do you see yourself in five to 10 years?
I don't know where I will be in five to 10 years, to be honest. I would like to venture into the entrepreneurial space. I think wherever I am and whatever I am doing, it will be focused on doing good things for both my local and global community, be it at a small or larger scale.
What advice do you have to give to Sage students?
My favorite advice presently is to enjoy your path. The experiences along the way are what have the most value.