Theatre Project Promotes Discussion of Race and Diversity on Campuses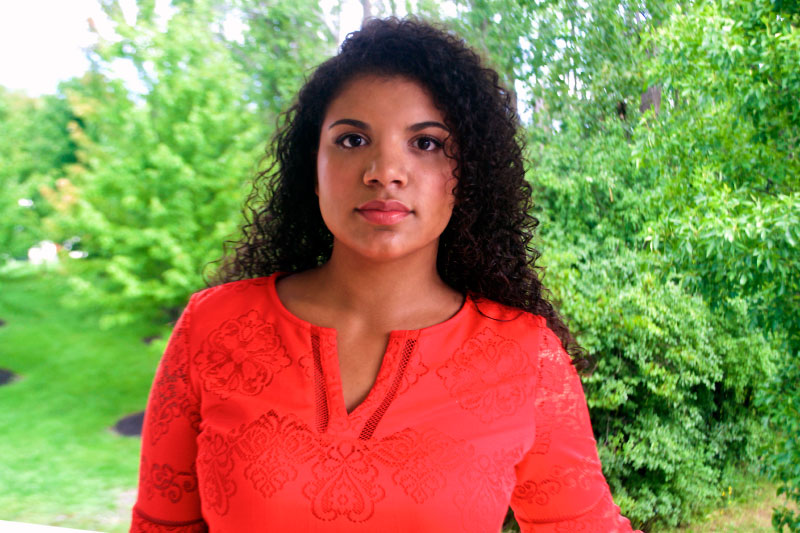 Morgan Heyward RSC '17 hopes the final project of her Theatre degree will be used to promote discussions of race and diversity on college campuses.
Heyward began thinking about her capstone project in early 2016, when a mentor encouraged her to write about her experiences as a woman of color at a small college. "I was nervous," she said. "She gave me the guidance and I set forth to write the play."
Heyward started with a sketch piece based on interviews she conducted, then experimented with another draft based on a character who graduates from a very diverse high school and then attends a more homogeneous college. But nothing clicked for her. "I felt detached from both pieces," she said.
She was still struggling with the work in 2016 when the combination of travel and Russell Sage tradition pushed her in the right direction.
Heyward spent fall 2016 in London, interning at the historic Richmond Theatre. She knew the 2016-17 academic year would be her last at Sage, and that she'd be abroad for half of it, but still decided she wanted to mentor an incoming student through Russell Sage College's Big Sister/Little Sister tradition.
"We'd only be on campus together for one semester, so I put a lot of effort into connecting with her while I was in London," said Heyward. "As graduation approached, I began thinking more and more of what I wanted to leave my 'Little' and other women of color on campus with."
The result is Dear Little, a multimedia show featuring both monologues based on Heyward's experience as a woman of color on a small college campus and recordings of Heyward speaking directly to her Little Sister, Stephanie Medrano '19, who is of Dominican descent.
Dear Little ends on Heyward's graduation day, as she bestows her class sweater on her Little Sister and encourages her to share her own experiences. Medrano, a health sciences major, appeared as herself in the final scene of the production on campus in spring 2017.
"The story I tell is universal and relevant to so many people," said Heyward, who gave the example of sometimes being the only person of color in a class as an experience she shares with others of diverse backgrounds. "I use that as an example because it can and often does hinder the ability of an individual to grow and learn," she said. "I'd like to make Dear Little available to other colleges for diversity training … the project is meant to inspire, enlighten and encourage college students from all walks of life."
Since graduating, Heyward has started hosting nights of theatre that showcase actors of color and encourage the community to come together and experience stories that are unfamiliar to them. "I have also started a few casual conversations about the future of Dear Little and I am currently looking for people interested in working with me on producing my piece," she said.