If you are visiting Sage in June, July or August, we hope you'll also enjoy some of the summertime activities near our campuses in Troy and Albany. Here are some ideas – all are outdoors, and many are free: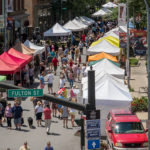 1. The Troy Waterfront Farmers Market is a destination for the entire Capital Region, with nearly 100 vendors offering organic produce and prepared food, artisanal products and more, all produced within a 100-mile radius of Troy. There are always local musicians performing, too (.2 miles from Troy campus, Saturdays).
2. Dozens of food trucks make West Capitol Park, adjacent to the New York State Capitol Building, and the Empire State Plaza, the perfect spot to picnic and people-watch (2.4 miles from Albany campus, weekdays).
3. Rockin' on the River is a popular concert series on the Hudson waterfront that attracts thousands to downtown Troy (.3 miles from Russell Sage College, Wednesdays, June-August.)
4. Park Playhouse in Albany's Washington Park annually produces high-quality outdoor theatre. This year, catch "In the Heights" or "Disney's Newsies." Free general admission – there is a charge for reserved seats (.9 miles from Albany campus, June-August).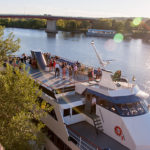 5. The Captain J.P. Cruise Line offers Friday night music cruises, narrated sightseeing tours and more, all summer long (.2 miles from Troy campus).
6. Enjoy live music followed by a favorite film at the Movies Under the Stars series. The June 28 screening of "The Lego Movie 2" will be on the lawn at Sage's Albany campus (Various dates and locations near Sage College of Albany).
7. There are free outdoor yoga classes near both campuses this summer! (Riverfront Park, .3 miles from Troy campus, Sunday mornings, June-August and Washington Park, .9 miles from Albany campus, Wednesday evenings, June-July.)
8. There are almost-weekly food festivals, heritage celebrations and concerts with national recording artists on the New York State Capitol's Summer at the Plaza calendar (2.4 miles from Sage College of Albany, June-September).
9. The CDPHP Cycle! bike share program is a fun and easy way to explore Sage's neighborhoods. There are bike share locations near both campuses, and you can pick up a new section of the Uncle Sam Bikeway behind Russell Sage College's Troy campus.
These are just a few examples of summertime activities close to Sage's Albany and Troy campuses. If you have more time or want to explore more, you'll find diverse museums and arts and cultural organizations, minor league baseball and world-class thoroughbred racing, concert venues, opportunities for outdoor recreation and much more. Sage's Where to Eat, Stay & Play guide and Iloveny.com are great resources.