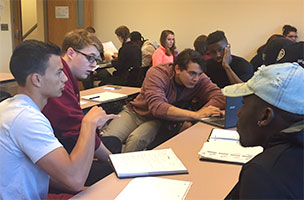 Working in project teams is an essential part of the Business Administration curriculum at Sage College of Albany. Business leaders are looking to employ bachelor's degree students who can work with a diverse team of people to accomplish organizational objectives. Team dynamics include solid communication skills with emphasis on active listening, compromise/negotiation, organization, project management, and creative problem solving leading to viable solutions.
In Fall 2016, students in the elective course Leadership and Diversity worked with a local non-profit organization seeking to increase revenue as the organization balanced its mission of profit, service, and Third World worker empowerment.
The students voted to select a project manager. Teams were formed based on project need and interest. Teams included Branding, Marketing, Finance, Social Media, Real Estate, and Staffing. The final project recommendations were presented to the clients after two months of work.
Recommendations included a reorganization of the website to (a) communicate a more focused brand and to be more user friendly, (b) consult with an accountant for more streamlined financial and reporting practices, and (c) consider implementing a volunteer enrichment program with the goal of retaining current volunteers and recruiting new volunteers with social media experience, and (d) increase social media presence.
The tools and output teams used and produced to gather and analyze information during the project included a survey, SWOT analysis, brand video for the website, interviews with the executive director and manager, review of financial documents, competitor website comparisons, job descriptions for new volunteer positions, and a series of example tweets for a new Twitter account.