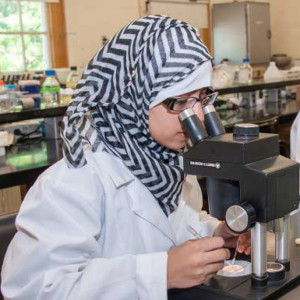 Biology major Saba Abuzaid said that the opportunity to conduct research with Kristi LaMonica, Ph.D., assistant professor of biology, over four years was the highlight of her Russell Sage College education.
Abuzaid worked with LaMonica on a project to identify genes that cause facial deformities and is especially proud that that research won Sage's first statewide CSTEP-award*, in 2017. More recently, Abuzaid worked with LaMonica on an investigation of the role of signaling pathways in cell migration.
Abuzaid said the combination of hands-on research and classroom instruction at Russell Sage has made her confident of success on the Medical College Admission Test, which she expects to take this fall. "I've looked at the MCAT materials and so far everything I've studied at Russell Sage – physics, biochem and biology – contribute," she said. Outside of Sage's classrooms and research labs, she volunteered in local hospitals and shadowed a physician assistant and medical doctor at a local family health practice for several months.
The Honors graduate didn't speak any English when she moved to the United States from Yemen in seventh grade. Today, she conveys her enthusiasm for research and expertise in sophisticated lab techniques in perfect English. Her experience working with translators and later, acting as a translator for family members, inspired her interest in a career in women's health in New York's Capital Region. "That's going to be my personal statement for medical school. The Arabic-speaking community is increasing and I'm bilingual; it would be nice for patients to be able to see a doctor and not need a translator."
* CSTEP, an acronym for the Collegiate Science and Technology Entry Program, is a program sponsored by the New York State Department of Education to support underrepresented and economically disadvantaged students pursuing science and licensed health professional majors. Learn more about CSTEP at Sage.