The Sage Employer-Student Connection—We Want
Our
Students to Get Jobs
Employers from Capital Region businesses interacted with SCA Business Students at the Annual Employer/Internship Panel in November 2016. Our goal is to bring employers and students together on campus for both internship and employment opportunities.
Employers offering jobs and internships for students included General Electric, Northwestern Mutual, New York State Comptroller's Office, Aflac, In Focus Brands, Shaye Global, Pombo Wealth Management, Inroads.org, and Aerotek.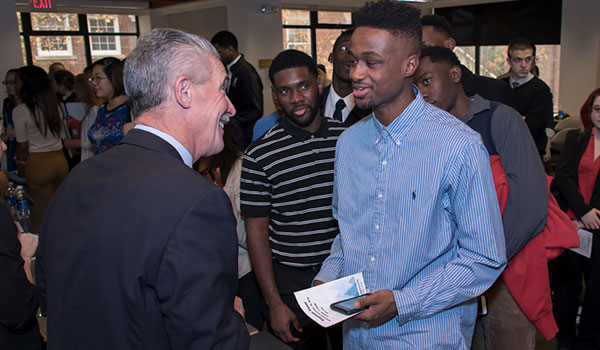 A number of students set up interviews over the next few weeks for positions starting in January. Current business student interns shared their experiences at the event. This included a finance/sport management intern at the Times Union Center, an HR intern for the Director at the NYS Comptroller's Office, a marketing research intern with a job shadowing experience in HR at Exhibit Planning & Management International, an accounting tax intern at Ayco, a manager trainee at Stewarts, and a student intern working at a Arthritis Care looking to connect management and health care.
"One of the most exciting developments over the past two years is the synergies created. Students want to major or minor in business and add on areas of interest that result in careers combining business and sports, business and health care, business and art, and business and science," said Dr. Eileen Brownell, the director of the School of Management Internship program.
Opening up these creative opportunities for students adds value to their major and gives them an advantage in the labor market.
"My career goals are continuing to develop," said Carrie Harring, a Health Science major and Business minor, "Over the last two years, my Sage experience has helped me differentiate between what I thought I wanted to do vs. what I am actually good at. I hope to work my way up to the executive level in healthcare administration. This HR internship has given me the opportunity to speak with administrators in the Comptroller's Office of New York State and the Department of Health to gain information about working at those agencies. I have learned that working for State government has been a great opportunity because of the long list of career possibilities and the promotions that are offered. I look forward to a career full of challenges, opportunities, and the chance to make my own footprint in healthcare administration."