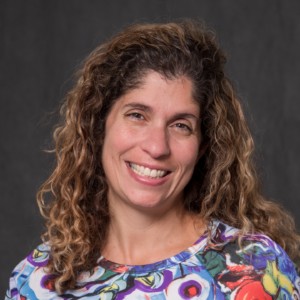 Samara Joy Nielsen has an impressive, and somewhat curious, set of academic credentials. She earned her B.S. in Biology from MIT and her Ph.D. in Nutritional Epidemiology from the University of North Carolina. After that, she completed her M.Div. from Duke Divinity School.
At first, it might seem the divinity degree represents something of a road not taken. Actually, the path Professor Nielsen has been on runs rather straight and true. She's been driven by a desire to share and teach what makes us healthy of body, mind and spirit. There was a period when she served as a prison chaplain, and that experience led her to realize that her true calling was in teaching.
So, we shouldn't be surprised to learn that teaching for her isn't just about facts and figures, charts and graphs. She makes it her mission to help students become more curious, and really learn how to think. "My objective," she says, "is to get them engaged with what we're doing in the classroom. Get them to care and have real interest."
With all the information we're bombarded with in today's world, Professor Nielsen finds that students are in need of mentors to help them navigate through it all. She's available to play that role in any way she can.
Students take her courses for a variety of reasons. Her master's degree classes are most often for those who are registered dietitians, but the undergraduates in her Nutrition Science class range from nursing to business students. For all of these students, Professor Nielsen's primary goal is the same: "Let's find something that gets you excited. Let's explore it together."