Business students Anthony Williamson ('16), Danielle DiCaprio ('17), Nicole Farmer ('17), and Kevin Saar ('18)  received the bronze prize in the IACBE New England Regional Business Case Competition in October 2016. This was the first year Sage participated in this event.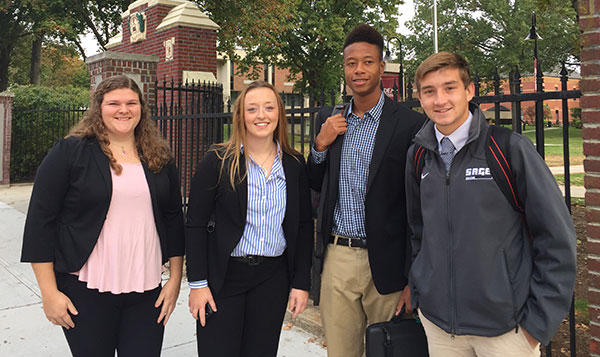 Students at the October 13 conference received a short description of the Mylan Epipen case. Students had four hours to do the research and prepare an eight-minute presentation with a Q & A session. The student team had to provide the ethical and business issues related to the case as well as recommendations to the faculty judges during the presentation.
"The faculty in the department are so proud of our students; they made the business case and identified a key ethical issue–ethical pricing," said Dr. Eileen Brownell, Chair of the Business and Accounting programs.
"We are are going to win next year," said Anthony Williamson.
Both Pamela Ko, Professor of Law, and Eileen Brownell, Professor of Management, attended the event.
IACBE (International Assembly for Collegiate Business Education) is the international business accrediting body for the School of Management's graduate and undergraduate programs.