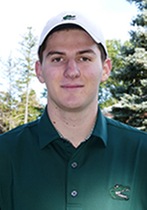 Talk about going away to college. Stuart Phair comes from Canberra, Australia, putting him about 10,000 miles from home.
So imagine Stuart's relief when he arrived at Sage as a first-year student, never having seen the campus before, and realizing, pretty much immediately, that he'd found his home away from home.
"The atmosphere of a small school was very comfortable for me when I first arrived on campus," he says. "Everyone here was so welcoming. And if you just took one step out of your comfort zone, you were pretty much going to get what you need."
Stuart did put himself out there. He participated in different types of campus activities, from bingo to sporting events. "It doesn't take long," he says. "Just one or two events and you're on your way. Plus, all the resources you need are right here. There's a great library, the gym is available to use, and there's a writing center. I thought this would all be much more difficult than it was."
The cold weather was a bit of shock, Stuart says, otherwise everything else was a pleasant surprise.
"The professors get to know you right away, and have no problem at all helping you with your questions. I've never had a bad professor here."
Stuart plays on the men's basketball team, and along with his major in Business Administration sees himself pointing towards a job in the sports industry. He also plans on staying here in the United States. "Americans seems to like Australians," he says with a laugh. "And I like America."