"Anything I can do for Sage and the community is a plus." – Trona Cenac RSC '18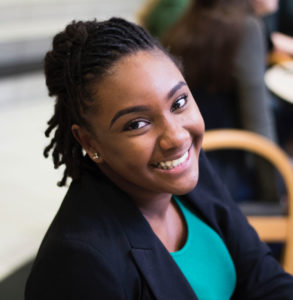 Trona Cenac RSC '18 received a summer 2017 fellowship to work at Troy Prep, a public charter school with a mission to prepare low-income students for college. Cenac taught math and English to third and fourth graders during the school's summer academy and said the highlight was "finding herself," elaborating that the experience confirmed her interest in a teaching career.
The Mathematics major, who grew up on the island of St. Lucia then lived with extended family and friends while she attended high school in New York City, knows how influential teachers can be. "It was so hard leaving my parents," she said. "This is the land of opportunity so I knew it would pay off one day but sometimes I just wanted to go home."
She excelled in school, she said, due to one particular teacher. "I want to be that person for others. I want to give to the community and to kids who need a support system."
Cenac found a support system at Russell Sage College, beginning with the admissions counselors who helped her navigate the application, financial aid and student loan processes, and continuing with her professors and friends. "Anything I can do for Sage and the community is a plus," she said of the many ways she gives back. She is student government treasurer – a position she volunteered for when no one else stepped up and found she really enjoyed – as well as an RA in German House. "I know that sometimes you need a peer to talk to," she said, adding that her own RAs inspired her to pursue this position.
Cenac also works at Horizon House, a halfway house in Albany that adjunct instructor Dan Robertello directs. She was hired after taking Robertello's criminal justice course, and said helping the residents stay on track to meet their goals is another way to contribute to a supportive community.
She'll continue at Horizon House this year and also work part time at Troy Prep, where has accepted a full-time teaching position after graduation.