April 02, 2020
As the founding director of the new Women's Institute at Russell Sage College, Karla Digirolamo imagines her experience and the historic Sage commitment to women combining to achieve great things.
April 02, 2020
Between her community engagement work and her experiences in the Sage nursing clinicals, Hayley Bennett says she is growing in her understanding of herself and her career choice.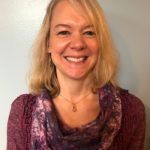 March 31, 2020
A former student, an adjunct professor and director of academic support, Sara Schuman is deeply embedded in the life of the Sage community.  
March 31, 2020
Physical distancing guidelines in response to COVID-19 pose a  challenge to those interested in continuing their education at Russell Sage College. After all, one of the best ways to know if a college is right for you is to visit. Here are some ways that you can get to know Sage without having to set foot outside your house.
March 31, 2020
Since he's found a home at Sage, Assistant Director of Public Safety Don Richards works hard to make sure that the college's students also feel right at home.