February 28, 2020
First-year student Tyler Cardona came to Sage from the Bronx with dreams of a life on stage. He already feels like he's making those dreams come true.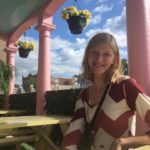 February 28, 2020
Kaylee Dalaba feels her Sage education made her both academically prepared and well-equipped with lots of hands-on, practical experience. She says: "That's the Sage way."
February 26, 2020
Public Health major Alice Antwi says she feels lifted up and ready to truly succeed in her life and career.

February 26, 2020
After earning her bachelor's degree in Psychology at Sage, Kate McMahon ended up becoming a nurse. But most important, she says, she learned how to keep her dreams alive.
February 26, 2020
She had her keen interests and undergraduate degree, but it wasn't until McCauley Cannizzo completed the Sage master's program in Organizational Management that her career path come into sharp focus.