April 30, 2019
Sofia D'Agostino's internship at the Rensselaer County Department of Health led to a job offer and consulting opportunities.
April 22, 2019
Robert Mills came to Sage with two goals: get an education and play basketball. Sage's basketball coaches and an internship at the Troy YMCA helped pave the way to his success on and off the court.

February 14, 2019
Sage student Jossalynn Harris has illustrated two children's books. "The Day Humble Herbert Became a Hero" was published in January and "Orange Blossom" is forthcoming.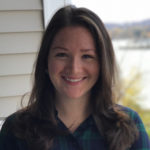 January 17, 2019
Meghan Finneran said her graduate degree prepared her for leadership roles in health care administration, and to earn the prestigious designation of board-certified fellow of the American College of Healthcare Executives.

January 04, 2019
A local recording studio offered management student Hakeem Plummer a paid position after his successful internship.