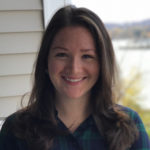 January 17, 2019
Meghan Finneran said her graduate degree prepared her for leadership roles in health care administration, and to earn the prestigious designation of board-certified fellow of the American College of Healthcare Executives.

January 04, 2019
A local recording studio offered management student Hakeem Plummer a paid position after his successful internship.
October 16, 2018
Marlyne Fahey was selected for New York state's highly-competitive Excelsior Service Fellowship and the state's new Women Lead Fellowship for Women in Government.
October 04, 2018
After an intership at the Office of the New York State Comptroller, Shuxin Dunavin said, "My classes at Sage have given me the strong foundation I need to enter into the accounting field, and my internship experience opened my eyes to the practical side of applying what I have learned."
August 23, 2018
Whether you just moved on campus or you're visiting Albany and Troy this fall, we hope you'll add some of the area's most popular events and destinations to your "Must Do" list.