July 16, 2018
The information and advice Megan Flynn '20 picked up on resume-writing, interview skills and professional etiquette at workshops sponsored by Sage's Office of Career Planning helped her get hired as a Human Resources intern at a multi-million dollar ecommerce business.
July 10, 2018
Sandy Augstein-Collins' first year as athletics director coincided with Sage's first year in the NCAA Division III Empire 8 conference. She shares highlights from 2017-18 and goals for building on the Gators' success in the upcoming season.
June 28, 2018
All Sage Management students complete internships and Danielle Stannard was thrilled to find a position that combines her interests in business and agriculture – and gives her the chance to learn even more.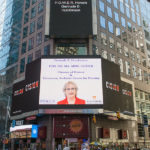 June 27, 2018
The famous Reuters billboard in Times Square recently lit up with a tribute to DNS graduate Gertrude B. Hutchinson. The Professional Organization of Women of Excellence Recognized sponsored the billboard in honor of Hutchinson's contributions to nursing and education.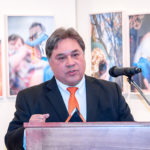 May 31, 2018
Esteves School of Education grad Stanley Harper is leading an impressive turnaround at the Salmon River Central School District.