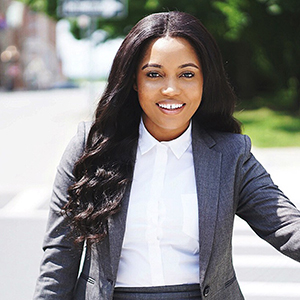 November 30, 2017
Attorney Kimberley Wallace always wanted a career in the criminal justice field. After studying at Sage she said, "I walked into law school very confident that I had the tools to be successful."
November 30, 2017
After earning her MBA at Sage in 2017, Lauryn Goldstein joined the People & Development (human resources) team at Ralph Lauren, the world famous fashion, home and fragrance brand.
November 29, 2017
Honors Student Hajar Hussaini RSC '19 was a delegate at the annual Student Conference on U.S. Affairs at the U.S. Military Academy at West Point in November.
November 13, 2017
Graduate student Gina Gerlach founded a new Interprofessional Education Club at Sage, to increase opportunities for future occupational and physical therapists, nurses, dietitians, mental health professionals and others to learn together.
October 11, 2017
Nursing major Adrienne Dudla RSC '18 was one of just 20 students accepted into the a highly selective leadership program in Integrative Medicine.