April 13, 2020
Judie Gilmore wants to see art help deepen the connections among members of the Sage community, and between the Sage and the surrounding Capital Region community.
April 07, 2020
Jabin Ahmed has built her life and career around being an activist and a force for change, after being challenged at Sage to reach her fullest potential.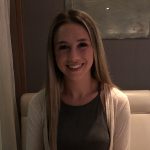 April 07, 2020
Captain of the women's soccer team, a standout in the classroom, Giovanna Fichera found just the right balance in her college experience.
April 07, 2020
After majoring in Theatre, Raysheea Turner decided to make the courtroom her stage, going on to earn a law degree and starting a practice with a fellow Sage graduate.
April 02, 2020
As the founding director of the new Women's Institute at Russell Sage College, Karla Digirolamo imagines her experience and the historic Sage commitment to women combining to achieve great things.