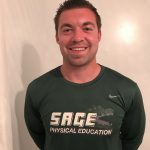 April 21, 2020
An outstanding athlete in high school, Tyler Rondeau was unprepared in his senior year to hear that he had Type 1 diabetes. But he rebounded quickly and with an assist from Sage has been able to make athletics an even bigger part of his life.
April 15, 2020
After completing a master's in Childhood Education and a dual master's in Literacy and Special Education, Jennie Evans has gone on to get her Ed.D in Educational Leadership.
April 14, 2020
Shy and reserved when she first arrived on campus, Kyerra Stanley feels like the Sage experience has helped make her into more of the person she's always wanted to be.
April 14, 2020
When the opportunity to work for her alma mater presented itself, she jumped at the chance. What called her back is what had originally captured her as a teenager. "I felt comfortable here. There's a sense of camaraderie."
April 14, 2020
Laurie Barnes completed her master's as a distance learner, then traveled 3,000 miles to attend her graduation.