Chair, Occupational Therapy
Assistant Professor, Occupational Therapy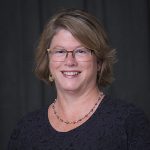 324 Scrimshaw Health Sciences Hall, Troy Campus
518-244-3136
[email protected]
Education
Doctor of Occupational Therapy, Rocky Mountain University of Health Professions, 2007
B.S. in Allied Health Science-Occupational Therapy, The Ohio State University, 1982
Certifications
NBCOT
Clinical Practice
Supervisor of Rehabilitation Department 1992 – 2002 which includes multiple sites (inpatient, psychiatric unit, outpatient, and Long Term Care facilities), multiple disciplines (OT, PT, SLP), and direct client services and fieldwork supervision.
Continued employment as occupational therapist in outpatient center 2002 – 2011.
Per diem Occupational Therapist – 2011 Long Term Care Sub Acute Rehab
Courses Taught
OTH504L Foundations of Occupational Therapy Lab
OTH507AL  Functional Anatomy Lab
OTH608 Foundations of Physical Rehabilitation
OTH608L Foundations of Physical Rehabilitation Lab
OTH612 Management of OT Services
OTH622 Fieldwork Seminar (shared course)
Accomplishments
2009: Presentation of research on Patient Education to New York State Occupational Therapy Association Conference in Saratoga, NY
Professional Organizations
AOTA Member
NYSOTA Member
2006 to present: Attendance at NY State Lobby Day
Service
Academic Advisement
Advisor to Pi Theta Epsilon Honor Society
Chair of Committee for Annual OT Month Activities
Supervise and train adjunct faculty
2008-2009 Interim Program Director
Consultant on a pending patent project proposed by Pam Dennison, RN, ICU nurse related to new ADL tool.