Professor, Psychology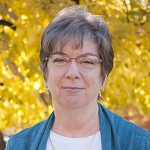 Gurley Hall 309, Troy
Froman Hall 307, Albany
518-244-2073 (T) | 518-292-1735 (A)
[email protected]
Biography
Patricia O'Connor, a community psychologist, is Professor of Psychology, Lorraine Walker Distinguished Chair in Psychology, Chair of the Department of Psychology, and Director of the Center for Community Based Evaluations here at The Sage Colleges. She completed her graduate degrees (M.A. and Ph.D.) at New York University and her undergraduate B.A. (in History) at St. Mary's College, Notre Dame, Indiana. She also completed post-doctoral work at New York State Psychiatric Institute and Columbia University prior to her beginning at Sage in 1981.
Dr. O'Connor generally teaches graduate courses in community psychology: Community Mental Health, Program Evaluation, and the capstone Research Seminar. Reflected in her teaching and mentoring of students, Dr. O'Connor is strongly committed to facilitating students' intellectual growth and their attainment of their personal and professional goals. Her research interests have included interventions to improve the quality of life for women and their children, health interventions for children, and work in the area of violence prevention. She is a recognized expert in program evaluation, consulting on evaluations and program development at the national, state, regional and local levels.
Dr. O'Connor is nationally known for her work in master's level training in psychology, and is particularly active in working to ensure quality master's programs. She is currently the Executive Director of the Masters in Psychology and Counseling Accreditation Council (MPCAC). She has also been active in the Society for Community Research and Action (Division 27 of the American Psychological Association) where she served as Secretary-Treasurer and as President, and is currently the Chair of the Awards Committee. Dr. O'Connor has been named a Fellow in the American Psychological Association and in Division 27, the Society for Community Research and Action.