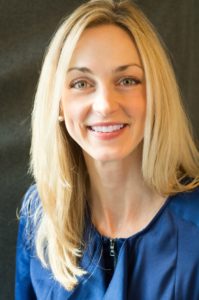 Associate Professor, Graduate Programs Director

Ackerman Hall 323, Troy
518-244-2047
[email protected]
Education
Ph.D – Food Policy and Applied Nutrition – Tufts University
MS – Nutrition Communication – Tufts University
BS – Nutrition Science – Russell Sage College
BA – Psychology – Houghton College
Courses Taught
SCI 120 Nutrition Science
NTR 562 Weight Management
NTR 561 Nutrition Programs and Interventions
NTR 555 Nutrition Communication
NTR 201 Foundations of Nutrition Science
HMN 201 Food, Culture and Nutrition
Research
Dr. Irish Hauser's academic work includes research in the areas of childhood obesity, family and community approaches to obesity prevention, and use of multimedia and web-based technology in health promotion. Other interests include environmental approaches to health behavior change and health and social marketing. Most recently, she has focused on development, implementation and various modes of dissemination for nutrition and physical activity curricula aimed at elementary school children. She has authored numerous scientific papers and speaks regularly at academic meetings and conferences. As well, she writes and contributes to articles for popular press and consults for various public health organizations, community groups, food companies, and commodity boards on a regular and on-going basis.
Publications
Professional Publications
Hauser SI, Craig A, Collins E. The increasingly competitive (and crowded) nutrition education environment. The Academy of Nutrition and Dietetics, Nutrition and Dietetics Educators and Preceptors Newsletter. 2016, Summer ed.
Irish Hauser SH, Economos CD, Nelson ME, Goldberg JP, Naumova EN, Anderson SE, Must A. Household and family factors related to weight status in first through third graders: A cross-sectional study in Eastern Massachusetts. BMC Pediatrics. 2014, 14(1):167-176.
Irish Hauser SH, Goldberg JP, Wilde P, Bers M, Ioannone L, Economos CD. Comparison of online and face-to-face dissemination of a theory-based after school nutrition and physical activity training and curriculum. J Health Comm. 2010, 15:859-879.
Economos CD; Irish Hauser SH. "Community Interventions: A brief overview and their application to the obesity epidemic." Journal of Law, Medicine & Ethics. 2007, 35:131-137.
Seguin RA, Hyatt RR, Kennedy MA, Irish SH, Nelson ME.  The Strongwomen Program: Evaluation Of A Community-Based Exercise Program And Its Leaders. Med Sci Sports & Exer. 2005. 37(5) Suppl: S246.
Professional Abstracts
Hauser SI, FitzPatrick E, Arendt SW, Olson ED, Rainville AJ, Rice BW, Lewis K. It Takes a Community: Innovative Approaches and Best Practices in Summer Food Service Program Operation. The Academy of Nutrition and Dietetics Annual Food and Nutrition Conference and Expo, (accepted for presentation) October 2016, Boston, MA.
Olson ED, Arendt SW, Hauser SI, FitzPatrick E, Rainville AJ, Rice BW, Lewis K. Marketing Practices and Innovations in Successful Summer Food Service Programs. School Nutrition Association Annual National Conference, July 2016, San Antonio, TX.
Sloat C, Higley J, Wolff J, Hauser SI, AbuSabha R. Parental practices, awareness and access of community resources are associated with their children's health behaviors and BMI. New York State Dietetic Association Annual Meeting, April 2014, Rye, NY.
Fredericks, K; Carman, J; Kelly, K; Irish Hauser SH. Social Network Analysis: The Devil is in the Details. American Evaluation Association Meeting, 2013, Minneapolis, MN.
Irish Hauser, SH, Goldberg, JP, Wilde, P; Bers, M; Ioanonne, L; and Economos, CE. "Using Technology and Online Collaboration to Enhance Training of After School Program Leaders in Nutrition and Physical Activity," 2009.
DeAngelis, MA; Irish-Hauser, SH; Shiery, L; Lapsley, K. Substituting almonds for saturated fatty acid sources and other foods in the typical American diet can achieve the dietary guidelines for Americans' Nutrient Recommendations. Experimental Biology, 2008.
Irish-Hauser, SH; Economos, CD; Nelson, M; Goldberg, J; Hyatt, R. Naumova, E; Anderson, S, and Must, A. Household and Family Characteristics in Relation to Weight Status in 1st-3rd Graders: Baseline Data from the Shape Up Somerville Intervention. The Obesity Society (TOS/NAASO) October, 2008.
Curricula/Manuals
Economos CD, Collins J, Irish Hauser SH, Hennessy E, Hudson D, Klemmer S, Kozower C, Marcotte L. The Healthy Eating and Active Time Club (with Web Resources). Champaign, IL: Human Kinetics; 2014.
Irish Hauser SH. The Better Lunch Initiative Toolkit. Massachusetts Department of Education, Child Nutrition Outreach Program, 2008.