Associate Professor, Nursing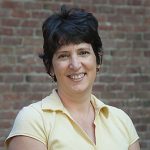 Ackerman Hall 220, Troy
518-244-2461
[email protected]
Biography
Victoria Greenwood is an Assistant Professor in the Nursing department at The Sage Colleges. She has been an RN for over 30 years, and an educator for fifteen years. She graduated with a baccalaureate degree from SUNY-Binghamton in 1982, followed by clinical practice in acute care pediatrics at Boston Children's Hospital. She further specialized in pediatric oncology, pediatric ICU, and pediatric community health. She then turned her attention to research, working under a two-year grant with a team of researchers in endocrine research, resulting in publication of results in two scholarly journals.
Ms. Greenwood's continued her education by attaining a master's degree in health education from The Sage Colleges in 1999, and a master's degree in nursing education from SUNY-IT in 2011. She created and managed a support/education group in her community for women following cesarean sections, with the intent of promoting vaginal birth after cesarean (VBAC).
She began teaching in the public-school system in 1999, teaching health education in both middle and high schools in her community. She moved to the college setting in 2006, initially teaching in an associate degree nursing program, and moving to a baccalaureate nursing program at The Sage Colleges in 2012. Recent research and publications includes Flipping the Nursing Classroom and Concept-based Instruction in Nursing Education. Ms. Greenwood is currently pursuing a doctoral degree in nursing leadership and education.
Ms. Greenwood's board affiliation includes membership on the board of the local chapter (Delta Pi) of Sigma Theta Tau International Honor Society of Nursing. She was also a founding board member for a private elementary school.
Education
M.S., Nursing, State University of New York Institute of Technology
M.S., Health Education, Sage Graduate School
B.S., Nursing, State University of New York at Binghamton
Certifications
New York State Registered Professional Nurse License #402871-1
ANCC Board Certification in Nursing Professional Development
NYS Teaching certification, secondary education
Poster Presentations
12 Steps to Fall Prevention:  Nurses' Day of Inquiry, St. Peter's Health Partners, November 2012
Invited Presentations
The Sage Colleges, Graduate School, Health Education presentation, March, 1999
Susan Odell Taylor School for Children, Health education lessons, Grades 4 and 5, January – May, 1999
Publications
12 Steps to Fall Prevention, pending publication.
Dark Adaptation in Hyperprolactinemic Woman, The Lancet, June 1989
Zinc Does Not Acutely Suppress Prolactin in Normal or Hyperprolactinemic Women, the Journal of Clinical Endocrinology and Metabolism, January, 1989
Honors and Affiliations
Member, American Nurses Association
Member, National League for Nursing
Member, New York State Nurses Association
Member, Institute for Healthcare Improvement
Member, American Association of University Women since 1994.
Vice-President, Membership, American Association of University Woman, 1996-1998
Board member, Susan Odell Taylor School for Children, Troy, NY 1998 to 2004
Sigma Theta Tau, National Honor Society of Nursing:  SUNY IT, 2010 and SUNY Binghamton, 1982
Phi Kappa Phi, National Honor Society, 1999
The Sage Colleges, Graduate School, Outstanding Health Education Student, 1999
Community Activities
St. Peter's Health Partners:  Multi-hospital collaboration on the effectiveness of hospital fall prevention policies and procedures
Facilitator, Ovarian Cancer Survivor Student Presentation, February, 2008, 2009, 2010, 2011
Liaison, St. Peter's Hospital and Maria College, Transforming Care at the Bedside (TCAB), 2008-2009
Board Member, Susan Odell Taylor School for Children, 1998 to 2006
Established local independent school for children, 1998