Associate Professor, Economics
Chair, School of Management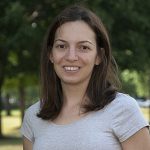 Administration Building Suite 220, Room 224, Albany
518-292-1786
[email protected]
Education
Ph.D., Applied Economics, Northeastern University
MA, International Economics, Suffolk University
BA, Economics, Bilkent University
Courses Taught
ECO 201 Principles of Macroeconomics
ECO 202 Principles of Microeconomics
BUS 209 Mathematics for Finance
BUS 325 Financial Management I
Biography
Ceren Ertan Yoruk is an Assistant Professor in the School of Management at The Sage Colleges. Her research focuses on several topics within labor economics, health economics, applied econometrics, and personnel economics. Her dissertation examined the effect of public policies on labor market and health outcomes of young adults. Her recent research has been published in peer reviewed journals such as Journal of Health Economics andSocial Science and Medicine. She presented her work at Eastern Economic Association and Southern Economic Association Annual Conferences.
Dr. Ertan Yoruk earned her Ph.D. in Applied Economics at Northeastern University. She also holds a Master of Science degree in International Economics from Suffolk University and a Bachelor of Arts degree in Economics from Bilkent University in Ankara, Turkey.
Prior to joining The Sage Colleges, Dr. Ertan Yoruk taught several Introduction to Microeconomics courses at Northeastern University and University at Albany, SUNY. Her teaching focuses on principles of microeconomics and macroeconomics, financial management, and health economics.