Associate Professor, Marketing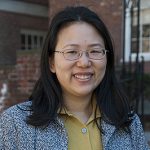 Administration Building Suite 220, Room 223, Albany
518-292-1737
[email protected]
Education
Ph.D., Marketing, University of Arizona
B.S., Economics, Xidian University
Courses Taught
BUS 204 Principles of Marketing
MBA 576 Marketing Systems
MBA 582 Consumer Behavior
MBA 683 New Product Development
Biography
Huimin Xu is Assistant Professor of Marketing at The Sage Colleges. She holds a Ph.D. in marketing with a minor in social psychology from the University of Arizona.
Prior to receiving her doctorate, Dr. Xu worked in international trade. Her professional experience working for renowned advertising firm Sims Advertising Co., Ltd., fueled her research interests materialism, self-regulatory focus, e-marketing, and existential anxiety's influence on creative consumption. Dr. Xu has recently been investigating the differences in the buying patterns of friends and family for gift purchases.
Her work often adopts an interdisciplinary approach. She has published in Basic and Applied Social Psychology, Communication Studies, Journal of Consumer Behavior, and Journal of Family & Consumer Sciences. She has presented at conferences of American Marketing Association, Society for Consumer Psychology, and American Consumer Association.
Dr. Xu has taught a range of undergraduate and graduate courses including Principles of Marketing, Consumer Behavior, Marketing Research, and Marketing Management.
Originally from Chengdu, the capital city of the Province of Sichuan, China, Dr. Xu currently lives with her family in Albany. Her husband, a graduate of RPI, is from Argyle, NY, and she is happy to have her 10-month-old son close to her husband's family. When her academic responsibilities and family activities allow for free time, Dr. Xu enjoys painting.