Associate Professor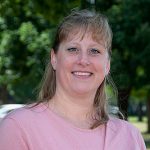 Administration Building
Suite 210, Room 207, Albany
518-292-8620
[email protected]
Education
Esq., Equality Concentration, CUNY School of Law
M.A., History, Wake Forest University
B.A., History and Political Science, University of Rochester
Courses Taught
BUS 212 Business Law I
BUS 213 Business Law II
BUS 430 Sport Law
BUS 348 Topics in Intellectual Property Law
MBA 570 Critical Thinking
Biography
Pamela Ko is an Associate Professor in the School of Management at The Sage Colleges. Her research focuses on Health Impact Assessment as a tool for developing broad-based environmental justice and sustainable land use development as well as the commercialization of emerging technologies and its importance for community economic development. She has written several articles on Health Impact Assessment and land use decision-making. Professor Ko has also authored books on mortgages and lien priorities in New York.
Her teaching focuses on the legal aspects of business, including commercial transactions, intellectual property protection and technology transfer. Professor Ko teaches classes in business law, contracts, intellectual property, and legal writing and analysis. Professor Ko earned her Juris Doctor from the City University of New York School of Law.
She also holds a Master of Arts degree in History from Wake Forest University. Professor Ko received her Bachelor of Arts degree in history and political science from the University of Rochester. Prior to coming to the Sage Colleges, Professor Ko was a Visiting Assistant Professor at Albany Law School, where she taught classes on technology transfer, intellectual property licensing and the use of intellectual property as an asset in business formation and growth.