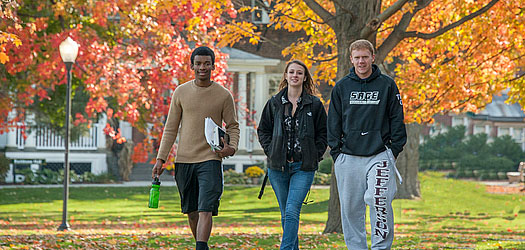 Congratulations on your acceptance to The Sage Colleges! We look forward to having you join the Sage community. If you have additional questions regarding your acceptance and next steps for enrollment, refer to the links below or contact our friendly Admission Office.
Submit Your Enrollment Deposit
Ready to attend Sage? You can submit your enrollment deposit anytime. Keep in mind that the deadline for on-campus housing for the Fall 2018 semester is June 1, 2018.
The deadline for first-year students who have been accepted to the Nursing Program is May 1st. Students accepted to the nursing program who pay the enrollment deposit after May 1st will not be offered a place in the class.
Your enrollment deposit is non-refundable as we will be holding a place for you at Sage.
File your FAFSA
Students must file a FAFSA (Free Application for Federal Student Aid, fafsa.gov) to be considered for need-based financial aid from Sage. Our school code is: 002810. Students applying for the Fall 2018 semester can complete the FAFSA as of October 1, 2017.
In order for the Financial Aid Committee to process a student's application for need-based financial aid, they must have a Social Security Number on file. Please make sure that this information is provided on the application.
Log in!
Your new Sage Log-in/User ID and Password gives you access to Sage Gmail and SageAdvisor. In SageAdvisor, students can view their profile, academic information, degree requirements, and pay their bill.
Get Ready for your Classes
The Office(s) of Academic Advising inputs new First Year and Transfer students class schedules. See New Student Advising Notes for more information. New students meet with the faculty representatives during an orientation program to review degree requirements & adjust their class schedules (if needed).
Immunization and Medical History
New students must have a current Student Immunization Form and complete medical history and physical on file. Please go to our wellness center page to fill out these forms. Health, counseling, and wellness services are available at the Wellness Centers:
Troy Campus
Kellas Hall, Lower Level
518-244-2261
Albany Campus
Kahl Campus Center, Lower Level
518-292-1917