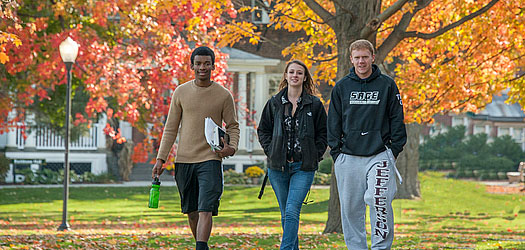 Congratulations on your acceptance to The Sage Colleges! We look forward to having you join the Sage community. Refer to the links below or contact our friendly Admission Office if you have additional questions regarding your acceptance and next steps for enrollment.
Submit Your Enrollment Deposit
Ready to attend Sage? You can submit your enrollment deposit anytime. Note: the enrollment deposit is non-refundable as we will be holding a place for you at Sage.
File your FAFSA
Students must file a FAFSA (Free Application for Federal Student Aid, fafsa.gov) to be considered for need-based financial aid from Sage. Our school code is: 002810. Students applying for the Fall 2019 semester can complete the FAFSA now.
In order for the Financial Aid Committee to process a student's application for need-based financial aid, they must have a Social Security Number on file. Please make sure that this information is provided on the application. If you are receiving any military benefits please contact our Financial Office at [email protected].
Filing a Financial Aid Appeal
The Offices of Enrollment and Financial Aid makes every attempt to award students the maximum aid for which they are eligible based on financial aid policies and available resources. If there have been changes in the family's financial situation, or if there are special circumstances which should be taken into consideration and appeal is suggested.
A student can appeal their financial aid package once and a FAFSA must be filed in order to be considered.  It is also encouraged that students, if selected, complete the verification process in order for the appeal to be reviewed.  As a NCAA Division III member, student athletes will receive no additional consideration for aid based on their athletic ability.
All appeals should be addressed to the Appeals Committee with supporting documentation of claim to [email protected].  The Committee responds to all correspondence within a reasonable period of time (generally within two weeks of receipt, unless substantial documentation is required).
Appeals should be sent answering the following questions and providing any additional supporting documentation.
Why do you feel you need the additional aid? Please provide any available documentation to support your claim.
Are there special circumstances the committee should be aware of (loss of wages or income, divorce or separation, death or permanent disability of parent or spouse, etc)?
If able, please provide an amount you feel is necessary to make attending Sage affordable.
Log in!
Your new Sage Log-in/User ID and Password gives you access to Sage Gmail, SageAdvisor and My Sage Portal. In SageAdvisor, students can view their profile, academic information, degree requirements, and pay their bill. Contact Sage Helpdesk, 518-244-4777 (available by phone 24/7), if you have trouble logging in.
View your My Sage Aid
Your financial aid package will be be available for you electronically in your MySageAid link in SageAdvisor. You can view and accept your awards online. *Please be aware there may additional documents required by the Office of Financial aid.
Get Ready for your Classes at Sage
The Office(s) of Academic Advising inputs new First Year and Transfer students class schedules. See New Student Advising Notes for more information. New students meet with the faculty representatives during an orientation program to review degree requirements & adjust their class schedules (if needed). *Important: don't forget to send transcripts of completed college credits, see handout for more information.
Immunization and Medical History
New students must have a current Student Immunization Form and complete medical history and physical on file. Please go to our wellness center page to fill out these forms. Health, counseling, and wellness services are available at the Wellness Centers:
Troy Campus: Kellas Hall, Lower Level, 518-244-2261
Albany Campus: Kahl Campus Center, Lower Level, 518-292-1917
Health Insurance
All new students are required to have health insurance. If you have health insurance outside please fill out the "Health Insurance Waiver" through SageAdvisor. This will be available June 2019.
Contact Us!
Your Admission Counselor is here to help answer any questions you may have specific to your enrollment process. The best way to get in touch is to call our main office at 518-244-2217 and ask to speak directly to your Admission Counselor.