The Sage Colleges — in essence a small university with multiple campuses, varied undergraduate programs and specialized graduate schools — present students with MORE options than ever. Whether you find your next home at Sage College of Albany or Russell Sage College, you will receive a Sage education.

Visionary leader, intrepid entrepreneur, prolific artist, respected scientist — whoever you dream to be, get ready to design your future at the Sage College of Albany in Albany, NY.
Why Sage? Some say it's our student-centered faculty and staff. Others point to our strong multidisciplinary core curriculum — one that gives students the essential competencies they need to succeed in the 21st century. Still others insist that it's our hands-on, learn-by-doing approach—and that this commitment lies at the heart of our students' success.
Situated in the University Heights neighborhood of New York's capital city, the co-educational Sage College of Albany offers four-year degrees in a variety of majors to prepare students for the career goals they identify – and opportunities still-to-be imagined.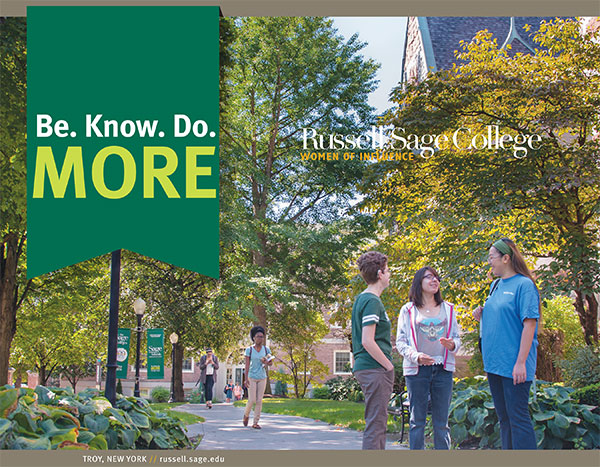 For 100 years Russell Sage College in Troy, NY, has delivered on our promise of personal attention, rich in opportunity to interact with faculty, to establish meaningful connections with peers, and to network with alumnae.
Russell Sage College is a comprehensive college for women nestled within the historic district of Troy, NY. RSC offers liberal arts and professional degree programs in an environment aimed at empowering students to become women of influence in their careers and their communities.