Imagine if they offered a College 101 course!
Take heart, there ARE helpful resources available for how to navigate the complicated journey called Going to College. At Sage, we recognized a need to help high school students and college students looking to transfer, get advice and information they need.
So we started offering workshops called Admissions 101: How to Navigate the College Admission Process, first on our campuses: Russell Sage College and Sage College of Albany. It was so popular, Sage admission staff took the workshops on the road and out into the community!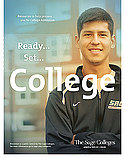 Then we put together resources like a printed admission booklet called "Ready… Set… College: Resources to help prepare you for College Admission," and distributed those widely in the community as well. Maybe you've seen one?
And finally, we're putting all those resources together for you on one website, and hope you find the answer to questions you have, and questions you hadn't thought of yet!
But if we missed anything, anything you need to know, feel free to contact our Admission staff at [email protected] or our Student Services experts at [email protected]
Good luck on your journey, and we hope to see you at Sage!