Student Eligibility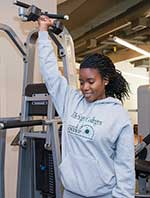 Admission to the CSTEP Program is open to Russell Sage College (RSC), Sage College of Albany (SCA), and Sage Professional and Continuing Education (SPCE) students at all levels—first year through senior year student, transfer students and post baccalaureate pre-med students—who meet the specific eligibility requirements below:

New York State resident (for at least 12 months)
African-American, Hispanic/Latino, American Indian or Alaskan native OR meet the economic eligibility requirements established by New York State.
A full time student at RSC, SCA, or SPCE.
Intend to pursue a major/career in a STEM discipline and/or the licensed  professions.
Minimum GPA of 2.5 overall and 2.5 in the major.
Eligible Majors
Accounting
Biology/Applied Biology/Clinical Biology
Biochemistry
Chemistry
Computer Information Systems
Creative Arts in Therapy
Forensic Science
Health Sciences
Interior + Spatial Design
Law & Society
Mathematics
Nursing
Nutrition Science
Eligible Licensed  and Health Professions Examples
Dentistry
Medicine (physician)
Nursing
Optometry
Pharmacy
Physician Assistant
Physical Therapy
Occupational Therapy
Registered Dietician
Veterinarian
Accounting
Interior Design
Creative Arts in Therapy
Lawyer