About HEOP at Sage College of Albany
The Arthur O. Eve Higher Education Opportunity Program (HEOP) is a partnership between The Sage Colleges and the New York State Education Department (NYSED). HEOP is designed to provide broad and varied educational instruction to capable students who, due to limited academic and financial resources, would otherwise not have the opportunity to attend Sage College. Once admitted to the HEOP program, students are provided with financial assistance, counseling, tutoring, advising and other support services throughout their college career. The goal of HEOP at the Sage Colleges is to retain and graduate promising students who will succeed at Sage and beyond.
HEOP Interview & Testing Dates at Sage College of Albany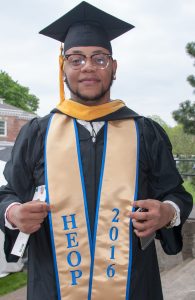 What You Need to Know about HEOP Interview and Testing Days
The day provides those students who are interested in The HEOP Program at the College to have the opportunity to visit the campus and meet the team.
Who? – All students who are applying to Sage College of Albany through the HEOP Program must attend an Interview and Testing Day.
What's it all about? – Once HEOP staff have reviewed a student for academic and financial eligibility a student is scheduled to visit the campus for the HEOP Interview and Testing Day.  The interview seeks to identify motivation and determination for future success at Sage College of Albany.  In many ways, college is about persistence.  The testing helps determine college preparedness in ways standardized testing may miss.
What do I need to bring with me? – You may bring your parent(s) or guardian(s). You must bring any economic documentation to complete your application file.
*Please note that there is no formal program for family/friends during the HEOP Interview Day – Guests will need to make independent plans
When? – HEOP Interview and Testing Days begin at 10:00am and usually are complete by 4:30pm.
Where? – We start our day on campus at the HEOP Office located on the 3rd of the Library.
Why is my attendance important? – The informational session will provide valuable information to help you with your final college decision.  The interview and testing is the last step in your admission process into Sage College of Albany.
Lunch? – Lunch will be provided for students.
Travel? – Students must make their own arrangements for transportation to and from the College, although staff is always available to provide information.
Please contact our office with questions.
518-292-1764
[email protected]