Creative Career Panel Discussion
Tuesday, November 10, 2020  ›  7:00pm–8:15pm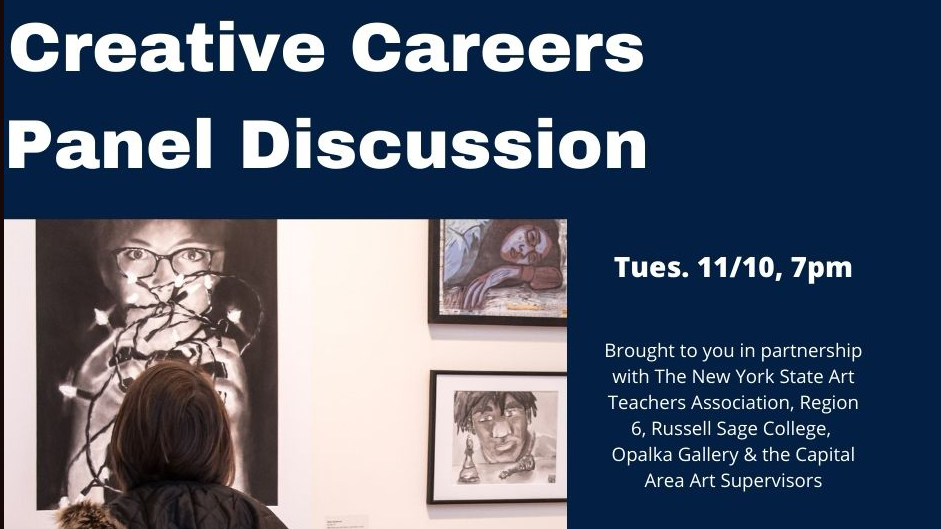 Join us as we discuss all things about careers in the arts, from what to get a degree in to what to expect in the workplace. Brought to you in Partnership with The New York State Art Teachers Association, Region 6, Russell Sage College, Opalka Gallery and the Capital Area Art Supervisors.
WEBINAR ID: 926 3102 3273
PASSCODE: 411650
You can choose to join with video or audio, or simply listen to the conversation with both muted.
Schedule
7:00pm Introduction/Keynote
Christopher Ames
President, Russell Sage College
7:10-7:30pm
Leah Rico (Graphic Design)
Baani Singh (Architecture/Interior Design)
7:30-7:50pm
Melissa Shea (Fashion)
Jayana LaFountaine (Photo)
Darian Henry (Video)
7:50-8:10pm
Matt McElligott (Fine arts/Illustration)
Tara Fracaolossi (Arts Admin/Museum)
Beth Thomas (K-12 Art Education)
8:10-8:25pm
Optional time for Q&A