DOUBLE YOUR GIFT. DOUBLE YOUR IMPACT.
As Sage moves into its second century, we need your help to make certain that deserving students can finance their education. Your support x 2 to The Sage Fund for Excellence marks the beginning of a significant 2nd century for Sage. Your support will provide the scholarship aid students need, as well as exceptional faculty and relevant programs to prepare them for success.
2ND CENTURY SCHOLARS
Our newest initiative to invest in student success. Your gift of $2,000 (or MORE) will provide an annual scholarship for a particular student who shares an affinity with you. Choose one designation, (i.e. campus, program, general) and we will match you with a student you can support and encourage in their academic journey.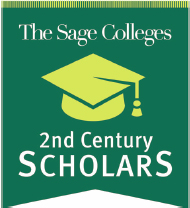 ---
The Sage Colleges depend on two primary sources of income in order to operate:
Tuition Revenue and Philanthropic Contributions.
While some donors may restrict their gifts into endowed funds, contributions to The Sage Fund for Excellence, Sage's Annual Fund, are essential because they immediately impact Sage's ability to serve its students every year.
The Sage Fund for Excellence supports:
Scholarships and Financial Aid
Curriculum Development
Faculty Resources
Student Enrichment Programs
Technological Resources
Campus Renovations
Innovative Academic Programs
Low Student-to-Faculty Ratio
Your annual gift to The Sage Fund provides vital support for current and future students. Alumni participation, at any level, is taken into consideration by the U.S. News and World Report when ranking colleges nationally. Alumni participation is also a key factor in gaining corporate and government grant funding to support unique college initiatives.