It's kind of cool when a legendary rock band Tweets your work.
Members of Duran Duran have been promoting singer/songwriter Anna Ross on social media, and their messages are usually accompanied by an album cover designed by a team from Sage College of Albany's Art + Design department.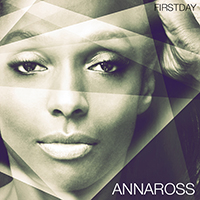 Assistant Professor of Interior Design Lynn Capirsello — a lifelong Duran Duran fan  — became friendly with Ross, a Duran Duran backup singer, at fan events in the United States and England. "Anna was recording her first album and had a lot of questions about her album's art," said Capirsello, who suggested Ross consider giving Sage students the opportunity to design her promotional material.
"It sounded far more exciting and interesting to do an artwork project with students than the impersonal option of going with an online company," said Ross. "This being my first album, I really felt it would be a fitting collaboration, in the spirit of learning and discovery."
Capirsello and Associate Professor of Graphic + Media Design Sean Hovendick recruited Anthony Cinque SCA '10, '16, Monika Carbone Hotchkiss SCA '16, Meradith Kill '05, '16 and Jessica Lucia '16 to the project for internship credit. The team set themselves up like a boutique firm and handled everything from design concepts to contracts and copyrights. Due to Ross's touring schedule, most meetings were held over Skype, but the students did meet her in person at a New York City photoshoot they directed and when they were backstage guests after a Duran Duran concert.
"For me in Interior Design, working with the graphics program to see and learn what they do and sharing how I work as an art director was the best part," said Capirsello. "For students, having something in their portfolio for a real client, not 'just' a school project, but a high-profile project that is out there in the world, opens opportunities."
That's what Graphic + Media Design graduate Jessica Lucia found, when she interviewed for a position in the executive chamber of New York State Governor Andrew Cuomo. She said she used the Anna Ross project and a catalogue she helped produce for an Opalka Gallery exhibit as examples of her experience with tight deadlines, teamwork and client feedback — and got the job.
Anthony Cinque, who earned a bachelor's degree in Business Administration from Sage before he returned for a bachelor's in Interior Design also found the experience to be great for networking. "I work for myself, where I concentrate on residential interior design, and for a local architecture firm where we focus on commercial architecture and interior design. This experience has definitely helped me stand out. So many ask me about it!" he said.
Monika Hotchkiss wanted to be a graphic designer since ninth grade "and my ultimate goal was to design album covers," she said. "Sean Hovendick knew that. I was really excited to work on this project." Having this and other collaborative internships on her resume, including a branding project for a local gallery, helped her attract steady freelance clients even before she graduated. "I had proven experience and others who could vouch for me," she said, adding that she's working on two more album covers now.
Meradith Kill, who holds degrees in Illustration and Graphic + Media Design from Sage and now works as a book designer, said she learned much from her teammates. "Each member came to the table with different opinions and viewpoints, which helped create the end result. I also appreciated the opportunity to work with a student and professor outside of my degree program," she said.
Ross's album, called First Day, will be released this fall. It was a long-term project as Anna toured, said Capirsello, who finalized the pieces after the students graduated. "Anna's been great about showing gratitude. Sage's name is in the liner notes. It's a great way to promote our programs."
Listen to singles on iTunes and pre-order First Day at pledgemusic.com/projects/annaross.