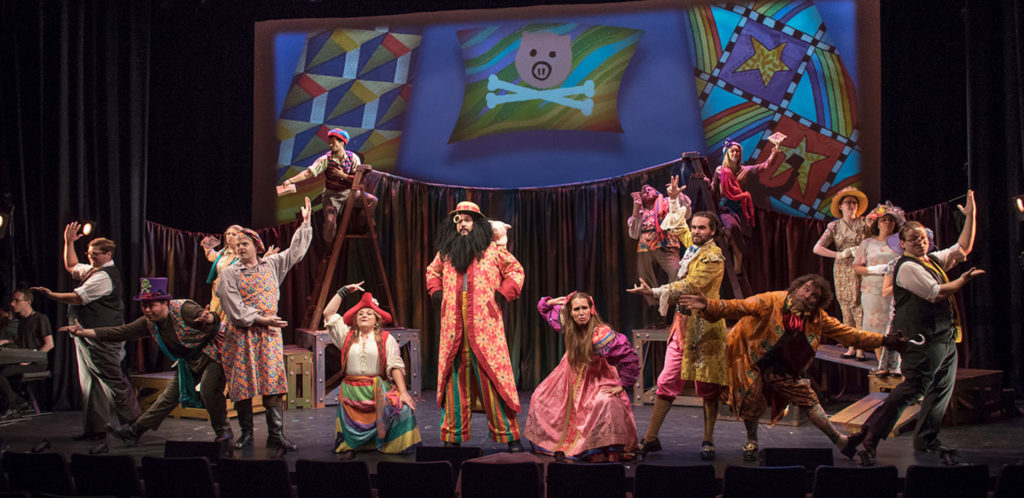 Inspired by the popular children's books by Matthew McElligott, a professor at The Sage Colleges, and following its world premiere at the Theatre Institute at Sage, Backbeard: The Musical is entertaining audiences as part of the 2017 New York Musical Festival.
A hilarious pirate musical for all ages, Backbeard: The Musical was created during a two-year collaboration between McElligott (book & lyrics) and Sage Professor Michael Musial (music & lyrics), with Sage alum Brian Sheldon (book) and Larry Tuxbury (lyrics & book), a teacher and children's book author.
This rollicking musical tells the tale of Backbeard, the hairiest pirate who ever lived, and his quest to answer the question "How should a pirate look?" When a rowdy birthday party ruins his clothes, a pair of persuasive tailors convince him to try a vibrant new outfit of patterned trousers, a colorful coat, and a pig. Now the fearsome pirate must face his greatest challenges: winning the acceptance of the Pirate Council, the townspeople, and even his own crew, in a high-spirited story of courage, acceptance, and standing up for who you are.
The production stars Off-Broadway veteran Jimmy Kieffer (Peter and the Star Catcher) as Backbeard. An ensemble cast is comprised of 15 students and alumni from The Sage College's Department of Theater.
Performances of Backbeard: The Musical are held at Acorn Theatre at Theatre Row (410 W. 42nd Street, between Ninth & Tenth Avenues).
Mon., July 31 at 8 p.m.
Thurs., Aug. 3 at 5 p.m.
Sat., Aug. 5 at 10:30 a.m.
Sat., Aug. 5 at 1:30 p.m.
Sun., Aug. 6 at 1 p.m.
To purchase tickets, visit nymf.org.
Cast & Creative Team
JIMMY KIEFFER (Backbeard) Off-Broadway: Peter and the Starcatcher. Regional: South Pacific (Guthrie Theater); A Servant To Two Masters (Pittsburgh Public Theater); Victor/Victoria (Theatre Under the Stars); …Poe, The Rivals (Baltimore Centerstage); Merry Wives of Windsor (Shakespeare Theatre Co.); Elf, Avenue Q (Arkansas Rep); Big River, As You Like It, Opus, All My Sons, Pride and Prejudice, Shipwrecked!, The Importance of Being Earnest, The Little Prince and Pericles (Playmakers Rep); Amadeus and Macbeth (Chautauqua Theater Company); A Christmas Carol, Livin' In the Garden, To Kill a Mockingbird and Twelfth Night (Alliance Theatre). Film/TV: Ricki and the Flash, "Criminal Minds," "A Place Apart and A Reason to Believe. Education: Master of Fine Arts at University of North Carolina at Chapel Hill.
MICHAEL MUSIAL (Music & Lyrics) is an Associate Professor and the Edith McRae distinguished professor in Music at the Sage Colleges, where he served as the founding director of the Theatre Institute at Sage and currently serves as the director of the Sage Singers. He directed the recent Theatre Institute at Sage productions of The Secret Garden, Les Misérables, Peter Pan, and Seussical: The Musical. He also directed and music directed numerous productions at Russell Sage College over the past 26 years, including Songs For A New World, 25th Annual Putnam County Spelling Bee, Urinetown, Lady in the Dark, Nunsense, Candide, You're a Good Man Charlie Brown, Sweeney Todd, Quilters, and Little Women, among others. He served as the music director of many productions with the New York State Theatre Institute. He is the Director of Music at St. Augustine's Church in North Troy. A Fulbright Scholar, Michael will travel abroad in the spring of 2017 to teach musical theatre at the New Bulgarian University and the National Academy of Music in Sofia, Bulgaria.
MATTHEW MCELLIGOTT (Book & Lyrics) is a Professor of Art + Design at The Sage Colleges and the author and illustrator of many books for children, including the Backbeard books, the Mad Scientist Academy series, Even Aliens Need Snacks, Even Monsters Need Haircuts, and the Benjamin Franklinstein series. His books have been published around the world in many languages on five continents. Like Backbeard, he is tall, aromatic, and not particularly bright. More information can be found at matthewmcelligott.com.
LARRY TUXBURY (Book & Lyrics) is an English Language Arts teacher in Guilderland, NY. Co-author of Matthew McElligott's Benjamin Franklinstein trilogy, Larry lives in the New York capital region with his wife and two daughters.
BRIAN SHELDON (Book) is a native of Schenectady and has been seen on many of the area's stages, including the New York State Theatre Institute, the Theatre Institute at Sage, Saratoga Shakespeare Company, Albany Civic Theatre, Schenectady Light Opera Company, the Theatre Barn, and more. Primarily an actor, Brian dove into playwriting a few years ago while attending Russell Sage College as a part of their inaugural Male Actor Apprenticeship Program. Brian has developed other original shows for the Theatre Institute at Sage, including Bizzy The Safety Dog and Ben's Lightening Round, which traveled to area schools, bringing education and theatre into the classroom.