TROY & ALBANY, N.Y. — Best College Reviews has ranked The Sage Colleges 12th out of 50 Best Small Colleges in the nation for 2017-2018.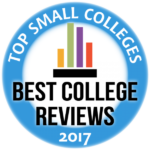 According to Best College Reviews, data was compiled from the National Center for Education Statistics regarding enrollment, retention, graduation rate, tuition and degrees and was used to narrow down the list to the top 50. The institutions were then ranked based on a scoring rubric.
"We are extremely pleased to be a part of this ranking, which highlights the benefits of attending a small institution," said Sage President Susan C. Scrimshaw, Ph.D. "Our students are not just numbers. Faculty and staff know them by name. We are a community of learners that support one another like family. Throughout our Centennial year, we have remembered Sage's rich history. With this ranking, we celebrate all that Sage has to offer current and future students."
The ranking notes Sage's small student to faculty ratio of 12:1 and the many academic, cultural and social opportunities available to students at the historic downtown Troy and Albany campuses.
View the list and get more information.
To learn more about Sage's offerings, visit www.sage.edu. To request more information, schedule a visit or apply, go to www.sage.edu/admissions.
About Sage:
Interdisciplinary academics, combining the professions and the liberal arts, community engagement, international exposure, and artistic and athletic endeavors are among the pillars of the educational experience at The Sage Colleges. Sage enrolls more than 3,000 students in bachelor's, master's and doctoral programs at the undergraduate Russell Sage College for women in Troy, N.Y.; the coeducational undergraduate Sage College of Albany in Albany, N.Y.; and the graduate-level Esteves School of Education, School of Health Sciences and School of Management, with programs on both campuses; adult education through the School of Professional and Continuing Education and via the Internet through Russell Sage Online.