National Leader for Women's Rights and Social and Economic Justice to Address Sage Graduates
TROY and ALBANY, N.Y. —  Cecile Richards, a national leader for women's rights and social and economic justice, will address The Sage Colleges Class of 2018 and guests at Sage's 101st Commencement on Sat., May 12, 2018.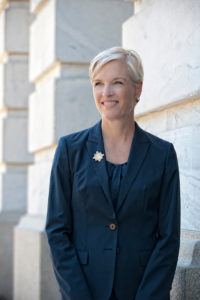 Richards has served as president of Planned Parenthood Federation of America and Planned Parenthood Action Fund for twelve years, working to expand access to reproductive health care and strengthen the movement for sexual and reproductive rights.
Christopher Ames, president of The Sage Colleges, and Richards, the daughter of the late Governor Ann Richards, met at Westlake High School in Austin, Texas. "Cecile Richards has identified as an activist since junior high, when she wore a black armband to protest the war in Vietnam, and joined me in petitioning for changes to a school policy mandating attendance at pep rallies," said Ames. "Her career in working for social justice has culminated in a decade leading an organization that, like Russell Sage College, was founded in 1916 as a resource for women seeking economic and social equality.  Like the graduates receiving their degrees in May, she also begins working toward new goals this spring. Her message will inspire Sage graduates who are heading off to advance their careers while standing up for their beliefs."
Richards began her career organizing low-wage workers in the hospitality and healthcare industries. She previously served as deputy chief of staff for Democratic Leader Nancy Pelosi and founded America Votes, a coalition of progressive organizations working to maximize voter registration, education and participation. She holds a bachelor's degree from Brown University and is on the boards of trustees of the Ford Foundation and the JPB Foundation.
Her address to Sage graduates occurs shortly after her departure from Planned Parenthood and the release of her memoir, "Make Trouble: Standing Up, Speaking Out, and Finding the Courage to Lead," for which she is touring with  nationally.
Ames will preside over the commencement ceremony, to be held at the Houston Field House on the Rensselaer Polytechnic Institute campus in Troy, and award an Honorary Doctorate of Public Service to Richards.
Sage will confer approximately 885 degrees at its 2018 commencement, including bachelor's, master's and doctoral degrees, as well as post-baccalaureate and post-master's certificates.
The commencement ceremony will begin at 10 a.m. For more information, visit sage.edu/commencement.
About The Sage Colleges
Sage enrolls approximately 3,000 students in bachelor's, master's and doctoral programs at the undergraduate Russell Sage College for women in Troy, N.Y.; the coeducational undergraduate Sage College of Albany in Albany, N.Y.; and the graduate-level Esteves School of Education, School of Health Sciences and School of Management, with programs on both campuses and online.