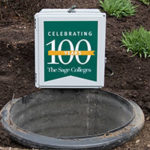 The Sage Colleges buried time capsules on the Russell Sage and Sage College of Albany campuses as part of its Centennial Celebration. The capsules, which include a wide variety of items that reflect Sage's illustrious history, were buried by President Susan C. Scrimshaw, Ph.D., students and other members of the Sage community.
"This is a wonderful way to create yet another milestone to recognize our Centennial," said Scrimshaw. "Gathering and preserving these items was truly a Sage community effort. The capsules tell the unique stories of our two different campuses, and capture the essence of Sage's dedication to providing an education that truly changes lives. While we cannot yet envision all the possibilities for Sage in the next 50 years, I am certain that our future students, faculty, staff, and alumni will recognize a shared history, and a tremendous sense of pride when they open these capsules in 2066."
The time capsules, which feature the Sage Centennial banner, measure 19.8 x 18.2 x 10.3 inches and are constructed from a material with high chemical resistance and stability to withstand temperature fluctuations of -40 degrees Fahrenheit to 250 degrees. All of the contents were preserved using current best practices in preservation and archiving.
---
RUSSELL SAGE COLLEGE CENTENNIAL TIME CAPSULE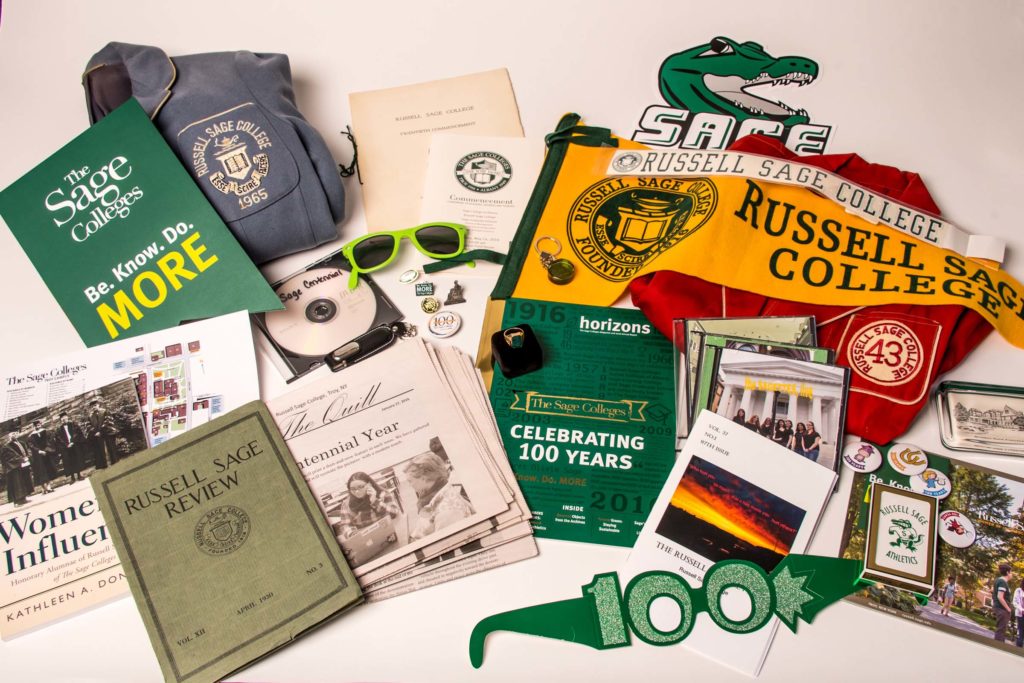 Buried: Thursday, April 20, 2017
Download a PDF version of the RSC Centennial Time Capsule Contents
List of questions for the Class of 2066
PIECES OF RUSSELL SAGE COLLEGE HISTORY
1966 yearbook
Sage Athletics playing cards
Russell Sage College Class ring, donated by Gertrude "Trudi" Palm Girr, RSC '59 with the initials GEP engraved on the inside (yearbook photo also included)
Russell Sage College class blazers

1943 red blazer – Esther Romweber Davidson, RSC '43 (yearbook photo also included)
1965 blue blazer

Russell Sage Review, filled with written works by students of Russell Sage College, 1930
20th Commencement Program, 1937
Russell Sage College pennant
Russell Sage College Alumnae Association apron
1919-1920 Student Handbook "Don'ts"
1919-1920 Student Handbook "Rules of Etiquette"
1945-1946 Student Handbook "General Rules"
1945-1946 Student Handbook "Dormitory Rules"
Russell Sage College campus map, 1940s
Russell Sage College acapella group "Sagette" CDs:

"Sounds from above the Tunnel"
"Coming in Late"
"The Sagettes: Live"

Russell Sage College Bulletin – "Why Russell Sage?" – March 1949
"Milestones in the Thirty Years", 1946
Lapel Pins:

Russell College Alumnae Association
Emma Willard
Sage Donor
Class Agent program
Centennial logo
"$100K in a Day", September 2016
Class mascots: Red Devil, Blue Angel, Golden Horseshoe, Purple Cow

Russell Sage College Gurley Hall commemorative plate
Russell Sage College paperweight
2016-2017 CAMPUS LIFE
2016 Sage student ID card for Margaret Olivia Slocum Sage
Rally Day glitter, donated by Kaylee Dalaba, RSC '17
Issues of Russell Sage College newspaper "The Quill":

Shea Learning Center, 2013
Centennial Year: January 2016; February 2016; March 2016; April 13, 2016; April 27, 2016; September 2016; October 2016; November 2, 2016; November 16, 2016; November 30, 2016
April Fools Issues, March 2017
Supreme Court Justice Sonia Sotomayor, April 2017

Sage Athletics schedules for the 2016-2017:

Women's Soccer, Volleyball, Tennis, Cross Country, Basketball
SCA Men's Soccer, Golf, Cross Country, Basketball, Volleyball

Russell Sage College campus map, 2016
Russell Sage College Admissions Acceptance package, 2016
Sage Financial Aid Guidebook, 2016
Sage graduation application form, 2016-2017
Sage Add/Drop course form, 2016-2017
Russell Sage College Admissions view book, 2016
Window and bumper stickers:

"Russell Sage College"
"Russell Sage College Alumnae"
"Russell Sage College Alumna"
"Be. Know. Do. MORE"

Russell Sage Review, filled with written works by students of Russell Sage College, 2016
CENTENNIAL
"100" glasses in assorted colors
Centennial sunglasses
Centennial key chain
Centennial water bottle
Centennial Gala invitation, October 2016
The Sage College's Centennial commemorative plate
Centennial calendar, 2016
Commencement Program, 2016
Centennial 5K schedule and runner's number, September 2016
Centennial Campaign Newsletter – Spring 2015
Centennial Campaign Newsletter – Winter 2016
PRESENT DAY LIFE & MISCELLANEOUS
Signed copy of "My Beloved World" book by Sonia Sotomayor
Signed copy of "Women of Influence" book by former faculty member Kathleen A. Donnelly, PhD
Movie posters from two released movies filmed on the Russell Sage College campus

"Age of Innocence" (1993)
"Off the Rails" (2016)

"Enjoy Troy" mug, donated by Elizabeth Gallagher
Downtown Troy guide of shops and restaurants
The Sage Colleges recycle bag, 2016
Book of 20 First-Class Forever Stamps – WPA Poster series – designs from the Work Projects Administration
DVD of photos, including archive images, student events, campus buildings, renovations, and centennial celebrations
2016 average prices and cost of living in Albany and Troy, NY
1966 & 2016 comparison
2016 "Year in Review" by CNN World Reports, highlighting national and international events for the entire year
PRINT MATERIALS
The Carol Ann Donahue Poetry Series Vol. 1, 2016
Russell Sage College manuscript of "The First Twenty-Five Years", 1941
Russell Sage College book "Second Quarter Century", 1966
Russell Sage College book "Sage Stories – Essays on the Third Quarter Century", 1991
Centennial Campaign Kick-Off program, March 2015
Centennial Year Kick-off program, January 2016
Russell Sage College Reunion 2016 "Save the Date" and invitation
Russell Sage College Annual Fund Mascot Madness appeal, 2016
Russell Sage College Annual Fund appeal, 2016
Russell Sage College Honors Convocation program, May 2016
Russell Sage College Baccalaureate program, May 2016
Russell Sage College Founders Convocation program, September 2016
Sage Athletics – "It take a village to build strong Gators" sheet
Sage Athletics – "How do I follow Sage Athletics?" sheet
Sage Athletics – Gators give back highlights
Sage Athletics – Gator logo cutout with athletic highlights
Sage at a glance – infographic ribbon banner, 2016
The Sage Colleges – Arts & Lectures schedule

Spring 2016
Fall 2016
Spring 2017

Selection of Centennial year event posters:

Souper Bowl, collection of 100 cans of soup for St. Joseph's House, March 2016
Elizabeth Brundage, fiction reading, March 2016
Sandra Lim, Carol Ann Donahue Poetry reading, April 2016
Wes Moore, author book signing, September 2016
"Women of Influence in Politics", October 2016
"Unfit for Democracy: The Roberts Court and the Breakdown of American Politics" with Stephen Gottlieb, L.L.B., October 2016
"Yours", centennial play by Leigh Strimbeck, October 2016
"Greenwood: An American Dream Destroyed", March 2017

Inaugural Artist of Scrimshaw Distinguished Visiting Artist Fund

Chris Bohjalian, author lecture and book signing, April 2017
"A Conversation with Supreme Court Justice Sonia Sotomayor, April 2017
"Newtown", film screening and discussion with Karin Williams LaBanca, RSC '94, April 2017

President's The Sage Colleges fact sheet, April 2017
"Backbeard: The Musical" highlights
President's holiday card, 2016
"Connections" alumnae magazine issues:
"Horizons" magazine and annual report:

2009: featuring President Susan C. Scrimshaw's inauguration
2016: Sage's Centennial

Russell Sage College donor view book of campus photos, 2014
"Mrs. Russell Sage" book by Ruth Crocker
"Influential Sage Women" in recognition of Women's History Month, May 1987
The Sage Colleges "An Agenda for Excellence – Directions for the 21st Century"
---
SAGE COLLEGE OF ALBANY CENTENNIAL TIME CAPSULE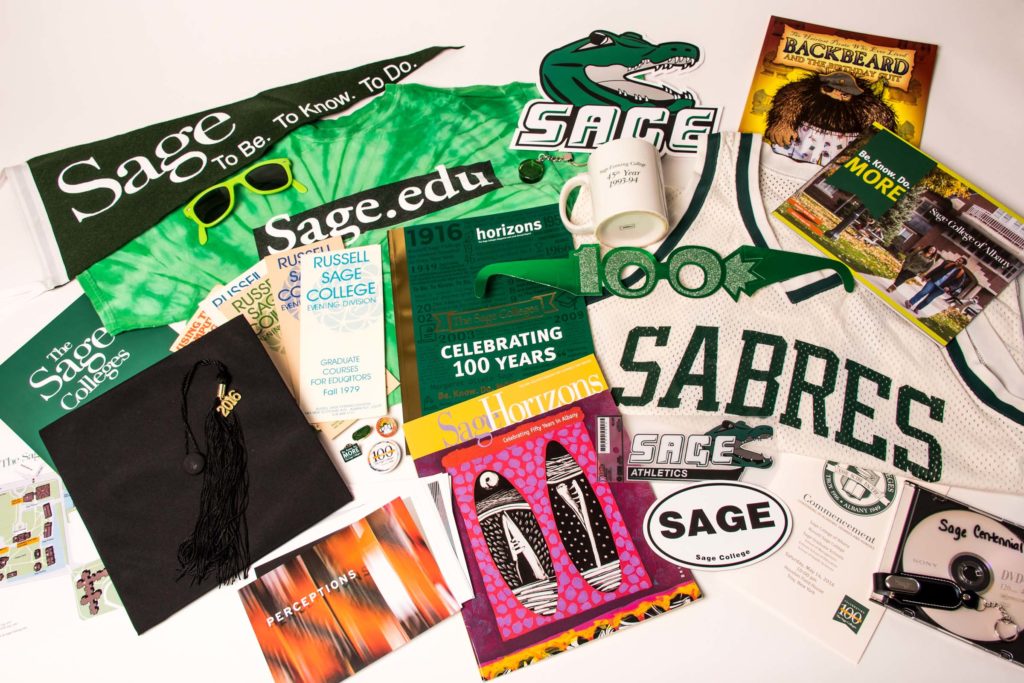 Buried: Friday, April 21, 2017
Download a PDF version of the SCA Centennial Time Capsule Contents
List of questions for the Class of 2066
PIECES OF SAGE COLLEGE OF ALBANY HISTORY
1966 "Saber" yearbook
Junior College of Albany Sabres basketball jersey
Sage JCA & SCA Alumni Basketball game t-shirt, 2015
Junior College of Albany champagne glass, donated by Associate Professor Tina Mancuso (Math and Computer Sciences)
"Sage.edu" green tie dye t-shirt
Sage Albany campus notecards, donated by Vice President Deirdre Zarrillo (Administration & Planning)
Sage Evening College mug celebrating 45 years (1993-1994)
Junior College of Albany binder, donated by Vice President Deirdre Zarrillo (Administration & Planning)
Humanities and Creative Studies pennants, donated by Professor Jeffrey K. Soleau (Philosophy & Interdisciplinary Studies). These were used at open houses to publicize the Humanities 2+2 "Creative Studies" program at Sage College of Albany, 2004
"Spring Poetry Evening" (2006) painted rock, donated by Professor Jeffrey K. Soleau (Philosophy & Interdisciplinary Studies). Poetry evenings took place in Rathbone Gallery. A student would decorate a stone for each poetry session, leading to a full collection of colorful stones.
Russell Sage College Evening Division Undergraduate and Graduate schedule, 1980
Russell Sage College Evening Division Course pamphlets:

Graduate courses for Educators, Fall 1979 & Spring 1980
Master's degree in Reading Specialization, Summer 1979
Associates in Nursing course program

"Using the Computer in Management" course at Russell Sage Evening Division, 1980
Junior College of Albany Interior Design program, 1980
"Look us over night: for people who want to change their lives" event flyer, January 1980
Ecology and Community Event, sponsored by Humanities at Junior College of Albany, 1998, donated by Professor Jeffrey K. Soleau (Philosophy & Interdisciplinary Studies)
"Perceptions" Collection Art + Design Faculty Show, 2014
Sage magnet
Vernacular 44 & 46 – the annual student-produced publication that features literature, art and design work from the students of Sage College of Albany
Sage "Be. Know. Do." Pennant
Lapel Pins:

Sage Alumni Association
Sage Donor
Centennial logo
Know. Do. MORE

Opalka Gallery t-shirt
2016-2017 CAMPUS LIFE
2016 Sage student ID card for the Sage Gator
Sage Athletics jacket
Graduation cap and 2016 tassel, donated by Robin Dickinson '03, '09, '15
Sage Athletics schedules for the 2016-2017:

Women's Soccer, Volleyball, Tennis, Cross Country, Basketball
Men's Soccer, Golf, Cross Country, Basketball, Volleyball

Sage Gator athletics card
Sage College of Albany campus map, 2016
Sage College of Albany Admissions acceptance package, 2016
Sage College of Albany Admissions view book, 2016
"Accepted Students Brunch", May 2017
Sage Financial Aid Guidebook, 2016
Sage Graduation Application Form, 2016-2017
Sage Add/Drop course form, 2016-2017
Window and bumper stickers:

Sage Athletics
Sage Graduate Schools
Know. Do. MORE

DVD of photos, including archive images, student events, campus buildings, renovations, and centennial celebrations
CENTENNIAL
"100" glasses in assorted colors
Centennial sunglasses
15th Annual Men's Alumni Basketball game highlights, April 2016
Centennial Gala invitation, October 2016
Centennial key chain
Centennial Campaign Newsletter – Spring 2015
Centennial Campaign Newsletter – Winter 2016
Centennial 5K schedule and runner's number, September 2016
The Sage College's Centennial commemorative plate
Centennial calendar, 2016
Centennial water bottle
PRESENT DAY LIFE & MISCELLANEOUS
Signed copy of "My Beloved World" book by Sonia Sotomayor
Signed copy of "Backbeard and the Birthday Suit" by Professor Matthew McElligott (Graphic Design)
Book of 20 First-Class Forever Stamps – WPA Poster series – designs from the Work Projects Administration
2016 average prices and cost of living in Albany and Troy, NY
1966 & 2016 comparison
2016 "Year in Review" by CNN World Reports, highlighting national and international events for the entire year
Albany Times Union newspaper from January 21, 2017 – Presidential Inauguration
Hillary Clinton bumper sticker, donated by Vice President Deirdre Zarrillo (Administration & Planning)
The Sage Colleges recycle bag, 2016
PRINT MATERIALS
Alumni Newsletter, Fall 1991
Sage College of Albany and Sage Graduate Schools Annual Fund appeals, 2016
Sage Athletics

Gators give back highlights
Points of Pride
"You're never too old to play"
Student Athlete Excellence

Sage Gator logo cutout with athletic highlights
Sage at a glance – infographic ribbon banner, 2016
Painter Sonia Benjamin exhibit book, "Beyond Borders", Opalka Gallery, 2016
"From Concept to Console: Art & Aesthetic in Video Game Design" exhibit book, Opalka Gallery, 2015
The Sage Colleges – Arts & Lectures schedule

Spring 2016
Fall 2016
Spring 2017

Selection of Centennial year event posters:

Souper Bowl, collection of 100 cans of soup for St. Joseph's House, March 2016
Elizabeth Brundage, fiction reading, March 2016
Sandra Lim, Carol Ann Donahue Poetry reading, April 2016
Wes Moore, author book signing, September 2016
"Women of Influence in Politics", October 2016
"Unfit for Democracy: The Roberts Court and the Breakdown of American Politics" with Stephen Gottlieb, L.L.B., October 2016
"Yours", centennial play by Leigh Strimbeck, October 2016
"Greenwood: An American Dream Destroyed", March 2017

Inaugural Artist of Scrimshaw Distinguished Visiting Artist Fund

Chris Bohjalian, author lecture and book signing, April 2017
"A Conversation with Supreme Court Justice Sonia Sotomayor, April 2017
"Newtown", film screening and discussion with Karin Williams LaBanca, RSC '94, April 2017

President's The Sage Colleges fact sheet, April 2017
"Backbeard: The Musical" highlights
President's holiday card, 2016
"Crossroads" alumni magazine issues:

Summer 2005, Spring 2006, Winter 2007, Fall 2007, Spring 2008, Spring 2009, Winter 2009, Fall 2010, Spring 2011, Fall 2011, Spring 2012, Fall 2012, Summer 2013, Winter 2014, Winter 2015, Summer 2015, Winter 2016, Summer 2016

"Horizons" magazine and annual report:

2009: featuring President Susan C. Scrimshaw's inauguration
2016: Sage's Centennial

Sage College of Albany donor view book of campus photos, 2014
The Sage Colleges "An Agenda for Excellence – Directions for the 21st Century"