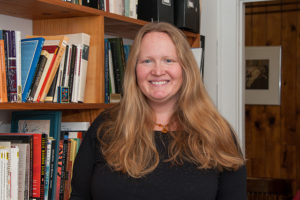 Associate Professor of English Shealeen Meaney, Ph.D., has been awarded the 2018-2019 Ruth R. & Alyson R. Miller Fellowship from the Massachusetts Historical Society.
The competitively awarded national research fellowship includes a residency at the society's renowned research library in Boston in summer 2019. Meaney's project, "Boston meets Brahmin: Massachusetts Women in Gandhi's India," will advance her ongoing research into the writings of American women who traveled to India in the late 19th and early 20th centuries.
"Traveling to and writing about India often provided these writers a way of learning about other women's lives and speaking about the issues they faced, pushing against the boundaries of conventional womanhood at home, and asserting their voices publicly on the domestic and world stages," said Meaney. "Their representations of India's cultures and peoples were, as we might expect, often quite problematic, but they are likely interesting to me for just this reason."
The Massachusetts Historical Society is the nation's first historical society. Its collections include millions of pages of letters, diaries and other documents, as well as newspapers, broadsides, artifacts, art, maps, photographs and prints. The projects that the MHS supports through its fellowship programs produce significant historical scholarship.
Meaney teaches courses in American literature, women writers, and travel and environmental literature at The Sage Colleges. She spent the 2017-18 academic year on a Fulbright Fellowship at the University of Goa in India and has also received research support from the National Endowment for the Humanities.
Read a Q & A with Professor Meaney.