Nine Students and Two Faculty Members Share Honors Success and Present Original Research at National Collegiate Honors Council Conference
Russell Sage College Honors students joined Associate Dean and Honors Program Director Tonya Moutray, Ph.D., and former Nursing faculty member Kathleen Buono for a roundtable, titled "Integrating Honors Education into Pre-Professional Programs," at the National Collegiate Honors Council conference in Boston in November.
The roundtable attracted college students and professors from across the country, who wanted to learn from the success Sage has had expanding the reach of the Russell Sage College Honors Program. Sage tripled Honors enrollment between 2011 and 2015, said Moutray, attributing the growth to a concentrated effort to attract Nursing and Health Sciences majors. Today 110 students are pursuing Honors diplomas and, as of spring 2018, 37 percent of Honors students are studying Nursing or Health Sciences. Moutray spoke to the audience about strategies she used to make Honors programming more appealing and accessible to Nursing and Health Sciences majors, including offering a wide range of courses and convenient scheduling that does not conflict with Nursing students' clinical days.
Nursing major and Nutrition minor Lauren Szczepaniak '21 described Honors seminars like Ill-Behaved Women: Nursing and Literature, History of Medicine and Big History: From the Big Bang to Artificial Intelligence, that relate to her professional goals and also expose her to other disciplines. "The Honors Program has offered me a more well-rounded education, as well as the opportunity to acquire diverse, rich critical-thinking skills that are vital for Nursing and the medical field," she said. Nursing majors Alexandra Betancourt-Perez '21 and Leah Tomisman '21 and Public Policy, Advocacy and Civic Engagement major Emily Taylor '19 also participated on the roundtable.
Original Research
The following students and professors presented original research at poster sessions during the National Collegiate Honors Council conference in Boston, November 7-11.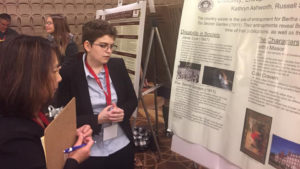 English and Childhood Education major Kathryn Ashworth '20 presented "Entrapment, Disability, and the British Country Estate," which explores the confinement of characters with disabilities in Charlotte Bronte's Jane Eyre and Francis Hodgson Burnett's The Secret Garden, and attitudes toward disabilities in the mid-19th and early-20th centuries.
Musical Theatre major Charlie Barnett '19, English and Theatre major Camryn Beck '20 and Associate Professor of Creative & Performing Arts David Baecker, MFA, presented curricula and research from "The Season: A Candid Look at Broadway," an Oxford-Style Tutorial offered within Sage's Honors program. Barnett and Beck also presented "Pulling Back the Curtain: An Examination of Current Broadway Advertising Strategies."
Nursing major Alexandra Betancourt-Perez '19 presented "Trends in Newborn Male Circumcision." The research, coauthored with Katerina Martin, Michelina Caruso, Christiana Poli and Rachel Schaffer, explores cultural practices, parental education and health care professionals' perspectives related to newborn male circumcision.
Health Sciences major Sara McCawley '19 presented "Dependence and Destruction of British Country Estates," which compares the class hierarchies within country estates to the trophic levels of ecosystems in biology through an examination of Margaret Powell's Below Stairs.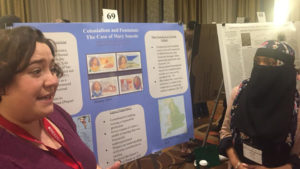 Public Policy, Advocacy and Civic Engagement major Emily Taylor '19 and Nursing major Asiyah Moore '21 presented "Colonialism and Feminism: The Case of Mary Seacole," an analysis of the challenges Seacole faced as a British subject, a woman of color, an entrepreneur and a nurse practitioner.