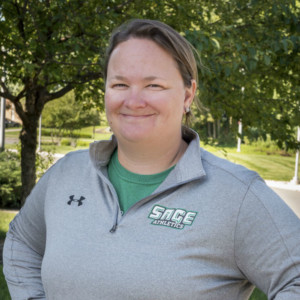 Gillian McDonald arrived at Sage in 2017, tasked with reinstating a competitive field hockey program. [Note: a varsity Russell Sage College field hockey team existed in the 1970s]. She attended more than 65 high school games last fall, accompanied dozens of prospective team members and their families on tours of The Sage Colleges, and – even as her roster was still taking shape – planned the 2018 game schedule with coaches in the Empire 8 conference and other colleges.
Finally, the student-athletes she recruited have arrived on campus and practices have started. The first game, against Westfield State University, is on September 1.
"The prospect of starting a program from scratch is really unique," said McDonald of what attracted her to Sage after serving as head field hockey coach at Hamilton College for 12 years. "To start a team from scratch intrigued me."
Read the press release announcing Gillian McDonald's appointment as head field hockey coach.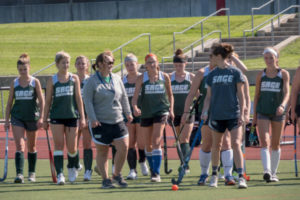 McDonald enters the preseason with 25 student-athletes – mostly first-years, with two transfers and a few students already at Sage – trying out. "Establishing a strong, positive, close-knit team culture is going to be the most important thing we do in our first year," she said. "The best teams I have been a part of, as both a player and a coach, have all had two things in common: great team chemistry and leadership."
She sees the returning Sage students on the team as an important source of leadership, especially Christina Bridge '19. "The hardest part with recruiting was that I didn't have any current field hockey student-athletes for the recruits to meet," McDonald continued. "Christina has been tremendously helpful in educating me on Sage and giving me a student's view. She hosted some recruits by taking them to lunch or one of her classes. She helped out at one of my prospect clinics and I know that she will be a great source of knowledge for our new and young players."
Prior to Hamilton, McDonald was an assistant coach at the University of Rochester and also coached at the North American Hockey Academy.
"I am definitely not a get-in-your-face, yelling type of coach. But I do have high expectations. For the most part I am pretty calm during practices and games and look to recruit players who are self-motivated," said McDonald of her coaching style. "I like to give my players ownership in the program and will look to leaders on the team when making decisions."
McDonald is a native of Hudson, Quebec. She lettered in both field hockey and ice hockey as an undergraduate at Bowdoin College and she holds a master's degree from SUNY Cortland.
With the addition of field hockey this fall and men's lacrosse in spring 2019, Sage now offers 17 varsity teams in the NCAA Division III Empire 8 conference.
Follow all of Sage's teams at sagegators.com.