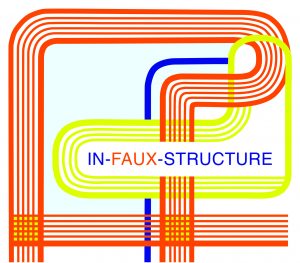 Reception: Friday, Sept. 6, 2019, 6-9 p.m.
Curators' Tour: Thursday, Sept. 12, 5:30 p.m.
Opalka Gallery is pleased to present In-faux-structure, an all-new group exhibition curated by regional artists Madison LaVallee, Julie Casper Roth and Melissa Sarris.
The genesis for In-faux-structure came from a conversation among the curators who discovered they were thinking along the same lines in the seemingly unrelated projects each was exploring in their own artistic practices. What began as a discussion of physical infrastructure—pipes, roads, structures and networks that fortify our society—quickly shifted to an expanded view of the systems and structures that surround us, from social infrastructure and constructs, to our personal networks and communities.
The title, "In-faux-structure," refers to false or erroneous meanings related to infrastructure: the ephemeral nature of building materials, as well as ambiguities, ironies and outright injustices related to the ways infrastructure is planned and considered. At every stage—from concept to construction—infrastructure is filled with omissions. These omissions comprise the "faux" of this exhibition. The metaphorical strength of infrastructure is weakened when people and power dynamics are hidden from view.
The exhibition represents a new model for Opalka Gallery in how it mounts group exhibitions. "I am interested in tearing down the walls at Opalka and opening up our space—that is, being responsive to projects and ideas brought to us," said Opalka Director Judie Gilmore. "When the curators presented their proposed exhibition concept, we were eager to collaborate on a show very different than what we have done in the past. In-faux-structure is an experiment for us in a new way of working with artists and guest curators, and we are thrilled with the results."
Through an inclusive, multi-step open call process, the curators solicited proposals for the creation of new—and in many cases—site-specific works with an emphasis on transparency and collaboration. The 16 pieces selected for the show, along with several artist performances and artist-hosted events, range from deeply thoughtful to outright comedic. They comment on gender, stereotypes, biases, loss, absence and detritus. Artists in the exhibition are exploring water access and climate change, road signs, the naming of public spaces, race, class, gender, notions of public vs. private, borders and walls and other issues. The work included spans artistic practices: sculpture, performance, social practice, fiber arts, printmaking and others. Most of the works in the show were created through a collaborative process with other artists or makers.
In a joint statement, the curators said, "This exhibition is about collaboration, visibility and the unseen human work that goes into making infrastructure. We hope that visitors will consider both the issues that artists give voice to as well as the infrastructure behind creating this show."
The artists or collaborative teams included are Laura Battle; Melissa Dorn and Kate Schaffer; Kyra Garrigue; Joan Grubin; Sarah Kayhart and Sadie Kenyon; Lucretia Knapp and Lynne Yamamoto; Madison LaVallee and Michael Valiquette; Jeanna Mead; Janice Medina, Björn Bauer and Carolyn DiFiori Hopkins; Oliver Peters; Julie Casper Roth; Claire Sherwood; Barbara Todd; Rebekah Tolley; Jason van Staveren; and Jacqueline Weaver and Michael Cunningham.
There will be a robust slate of related events throughout the exhibition, from beer gardens with live music to performances, talks and even a bike tour. Visit https://opalka.sage.edu/programs-events for the full schedule.
In-faux-structure is made possible by the New York State Council on the Arts under Governor Andrew M. Cuomo's Regional Economic Development Council Initiative. Sustaining support for the gallery is provided by Chet and Karen Opalka.
Opalka Gallery is open Tuesday, Wednesdays and Fridays, noon-5 p.m.; Thursdays noon-8 p.m.; and Saturdays noon-5 p.m. For more information, please contact Amy Griffin, exhibitions and marketing manager, at (518) 292-8607 or [email protected] or visit Sage.edu/Opalka.