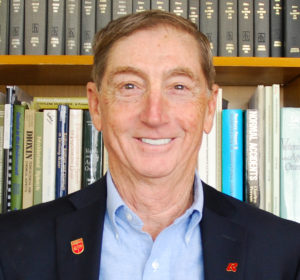 Toxicologist Michael Gallo, Ph.D., will speak about risks associated with perfluorinated chemicals like PFOA, PFOS and PFAA, on Wed., February 28, at 4:30 p.m., in Mueller Science Hall at Russell Sage College, 65 1st Street, Troy, N.Y.
Gallo is the 2018 speaker for The Sage Colleges Grace Van DerVoort Lecture, an annual lecture by leaders in chemistry and related disciplines. He will present recent studies of the toxic effects of perfluorinated chemicals on aquatic species and discuss what those effects may mean for human health. He will also address how the field of toxicology informs green chemistry practices, which aim to develop compounds that do not bio-accumulate and are benign. His talk, titled "Environmental Toxicology: A Key to Green Chemistry," is free and open to the public.
A graduate of Sage Evening College, Gallo is professor emeritus of environmental and occupational medicine at Rutgers University's Robert Wood Johnson Medical School and an investigator with Rutgers' CounterACT Research Center of Excellence, which designs therapies to respond to chemical terrorism. A diplomate of the American Board of Toxicology and a fellow of the Academy of Toxicological Sciences, Gallo is a founding member of the Environmental and Occupational Health Sciences Institute where he served as director of toxicology, and as director of the National Institute of Environmental Health Sciences Center of Excellence. He was founding director of the Cancer Institute of New Jersey and associate dean for research. He also chaired the New Jersey Governor's Pesticide Control Council and New Jersey Cancer Risk Commission. He served as an expert with the National Academy of Sciences, Engineering & Medicine, and as a consultant to the academic, government and private sectors.