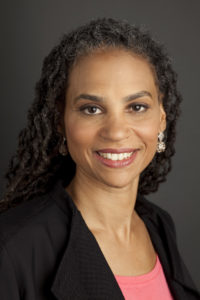 Maya Wiley is a nationally renowned expert on racial justice and equity. She has litigated, lobbied the U.S. Congress, and developed programs to transform structural racism in the U.S. and in South Africa. Ms. Wiley is currently the Senior Vice President for Social Justice at the New School University and the Henry Cohen Professor of Public & Urban Policy at The New School's Milano School of International Affairs, Management & Urban Policy. She is an expert on Digital Equity and founded and Co-Directs the New School's Digital Equity Laboratory.
She is the Co-Chair of the New York City Department of Education's School Diversity Working Group, formulating recommendations on school desegregation. She is the former Chair of the New York City Civilian Complaint Review Board (CCRB) – the independent oversight agency on police misconduct by officers in the New York Police Department and formerly served as Counsel to the Mayor of the City of New York from 2014-2016. Prior to that, Ms. Wiley served as Counsel to New York City Mayor Bill de Blasio. As the Mayor's chief legal advisor and a member of his Senior Cabinet, Wiley was placed at the helm of the Mayor's commitment to expanding affordable broadband access across New York City, advancing civil and human rights and gender equity, and increasing the effectiveness of the City's support for Minority/Women Owned Business Enterprises. During her tenure, she also served as the Mayor's liaison to the Mayor's Advisory Committee on the Judiciary.
Before her position with the de Blasio Administration, Ms. Wiley was the Founder and President of the Center for Social Inclusion. She has also worked for the Open Society Foundation in the U.S. and in South Africa, the NAACP Legal Defense & Educational Fund, Inc., the American Civil Liberties Union and U.S. Attorney's Office for the Southern District of New York.
Ms. Wiley appears regularly on MSNBC and has written numerous Opinion-Editorials for major news outlets, including The Guardian, Time Magazine, Essence.Com, Fast Company and the NY Daily News. In 2016, Good Housekeeping Magazine honored Ms. Wiley as one of 50 over 50. City and State Magazine named Ms. Wiley one of the 100 most powerful people in New York City in 2014 and in 2015. In 2011, Wiley was named one of "20 Leading Black Women Social Activists Advocating Change" by TheRoot.com and a Moves Power Woman in 2009 by the magazine.
In 2018, Wiley joined NBC News and MSNBC as a legal analyst.
Ms. Wiley holds a J.D. from Columbia University School of Law and a B.A in psychology from Dartmouth College. She resides in Brooklyn with her two daughters and her partner.