Ghost Writer Grapples with Alzheimer's Disease, Terrorism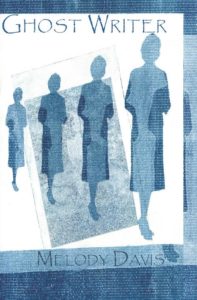 Ghost Writer, the fourth book of poetry by Melody Davis, Ph.D., associate professor of art history at The Sage Colleges, is available from publisher Broadstone Books.
"It's the most brutally raw and honest book I've ever written," said Davis of the collection, comprised of poems written contemporaneously with her mother's declining health due to Alzheimer's disease, interspersed with a poem sequence written in the aftermath of 9/11.
The opening poems describe Davis' mother "raging against her confinement in a nursing home and in her own declining body, still demanding autonomy, hurling accusations over transgressions imagined and recalled," writes the publisher.
The second part of the book is a revision of a poem sequence originally published in response to 9/11. "It was a long sequence, 20 pages, and I tore it apart. I saved certain parts and I added a new ending," said Davis. "It's really about how we live with terror, and that ties in with the first part of the book. It's really a terrifying thing to have this happen to your parent."
In the third and final section, Davis reflects upon her childhood and contemporary events that have to do with trauma and violence. "There's also a kind of beauty there," she said. "Sometimes people who are inclined to control others and create situations of fear are kind of magical and enchanting themselves."
"What do I hope readers will take away from Ghost Writer? That they are not alone," said Davis. "We as a country and as a world are in this crisis of Alzheimer's and dementia, but it's a quiet crisis, because people keep it to themselves and their families. It's atomized. But they're not alone," she continued, "and in this era of terror and anxiety, again, we're not alone. There are people all around who are experiencing the same things, and to be able to talk about it gives us power. As soon as you utter, you have an element of detachment. As soon as you stop to craft a work of art or poem, you've begun the process of controlling it rather than letting it control you."
Davis' previous books of poetry include The Center of Distance (Nightshade Press, 1992), Holding the Curve (Broadstone Books, 2013) and One Ground Beetle (Bad Cat Press, 2017), a collection of haiku by Davis accompanied by prints by Professor Emeritus Harold Lohner, MFA, who also designed the cover for "Ghost Writer." Davis' scholarly works include Women's Views: The Narrative Stereograph in Nineteenth-Century America (University New Hampshire Press, 2015); The Male Nude in Contemporary Photography (Temple University Press, 1991) and a forthcoming ebook about stereoscopic photographer F.G. Weller.
Find out more about Ghost Writer at the publisher's website.