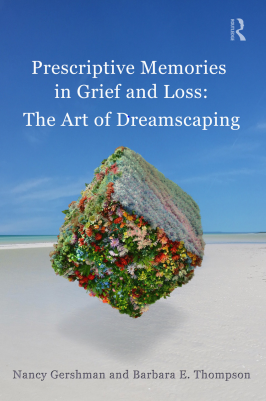 Prescriptive Memories in Grief and Loss: The Art of Dreamscaping by Nancy Gershman and The Sage Colleges Professor of Occupational Therapy Barbara E. Thompson, OTD, LCSW, was published in December by Routledge. Dreamscaping is defined in the book's foreword as "the artful reconstruction of memory in the service of healing" and involves a clinician and a bereaved client collaborating on a collage or other visual memento "that blends recollection and imagination in the service of creating more vivid access to the memories."
Thompson is a psychotherapist as well as an occupational therapist. Her clinical background and previous writing on the use of the expressive arts in coping with grief led to an invitation to collaborate with Gershman, who developed the dreamscaping technique. "My role was to translate and expand upon Nancy's work with the aim of producing a practical guide for clinicians," said Thompson.
Prescriptive Memories includes contributions from 12 professionals from a variety of therapeutic practices, and will be of interest to those who work with the bereaved, including art therapists, psychologists, social workers, pastoral care providers and mental health counselors. "The book itself was an interprofessional collaboration and its audience is interprofessional as well," said Thompson, who has led several interprofessional education initiatives at The Sage Colleges School of Health Sciences. "These types of collaborations are especially enriching because they bring together the best from related fields for the benefit of the people we aim to serve."
Thompson is the editor and author of Grief and the Expressive Arts: Practices for Creating Meaning (Routledge, 2014) with Robert A. Neimeyer. She has a private psychotherapy practice in Troy, New York, and she teaches in The Sage Colleges' Master of Science in Occupational Therapy program.
Find out MORE about Prescriptive Memories in Grief and Loss: The Art of Dreamscaping at the publisher's website.