Madeline Cafiero Inspires Colleagues and Students with Service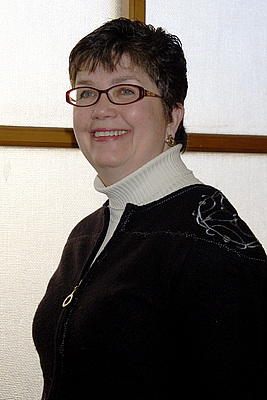 Madeline Cafiero, Ed.D., FNP-BC, associate professor of the practice of nursing at The Sage Colleges, is one of 15 finalists in the Albany Times Union's annual Salute to Nurses. Several hundred nurses were nominated for this award recognizing exceptional nurses in the Capital Region. The finalists will be honored at a luncheon on Friday, May 10, at the Albany Marriot.
Dr. Cafiero has taught at Sage as an adjunct since 2007, and full time since 2008. She has served as director of the RN-to-BSN program for two years and graduate program director for five years. In those roles, she significantly increased the number of non-traditional, community-based clinical sites for nursing students.
Dr. Cafiero is passionate about applying her health care expertise to social justice needs, and inspires her students and fellow faculty members to do the same. In 2018, she and colleagues from Sage's Physical Therapy, Occupational Therapy and Nursing departments received a grant to support education to seniors at DePaul Housing buildings. Teams of physical therapy, occupational therapy and nursing students visited independent living facilities to present on health topics of concern to these senior citizens. This spring, she worked with colleagues and students on a Louis and Hortense Rubin Community Fellows Program-supported project to promote health sciences education and careers to families involved with the Boys & Girls Clubs of the Capital Area. She has traveled to Guatemala five times with the Glens Falls Medical Mission, and brought students on three of those trips. She also welcomes students to accompany her to the Sheridan Hollow Drop-In Center in Albany, where she and Glenda Kelman, Ph.D., chair of Nursing at The Sage Colleges, established a free pre-employment physical examination program for low-income adults six years ago.
Dr. Cafiero holds a bachelor's degree from the Leinhard School of Nursing at Pace University, a master's degree from The Sage Colleges and a doctorate in Educational Leadership from the Nurse Executive Program at Teachers College of Columbia University. She has worked as a nurse in hospital, emergency room, community health and home care settings before she began teaching at Sage. She will retire from Sage at the conclusion of the 2018-2019 academic year.