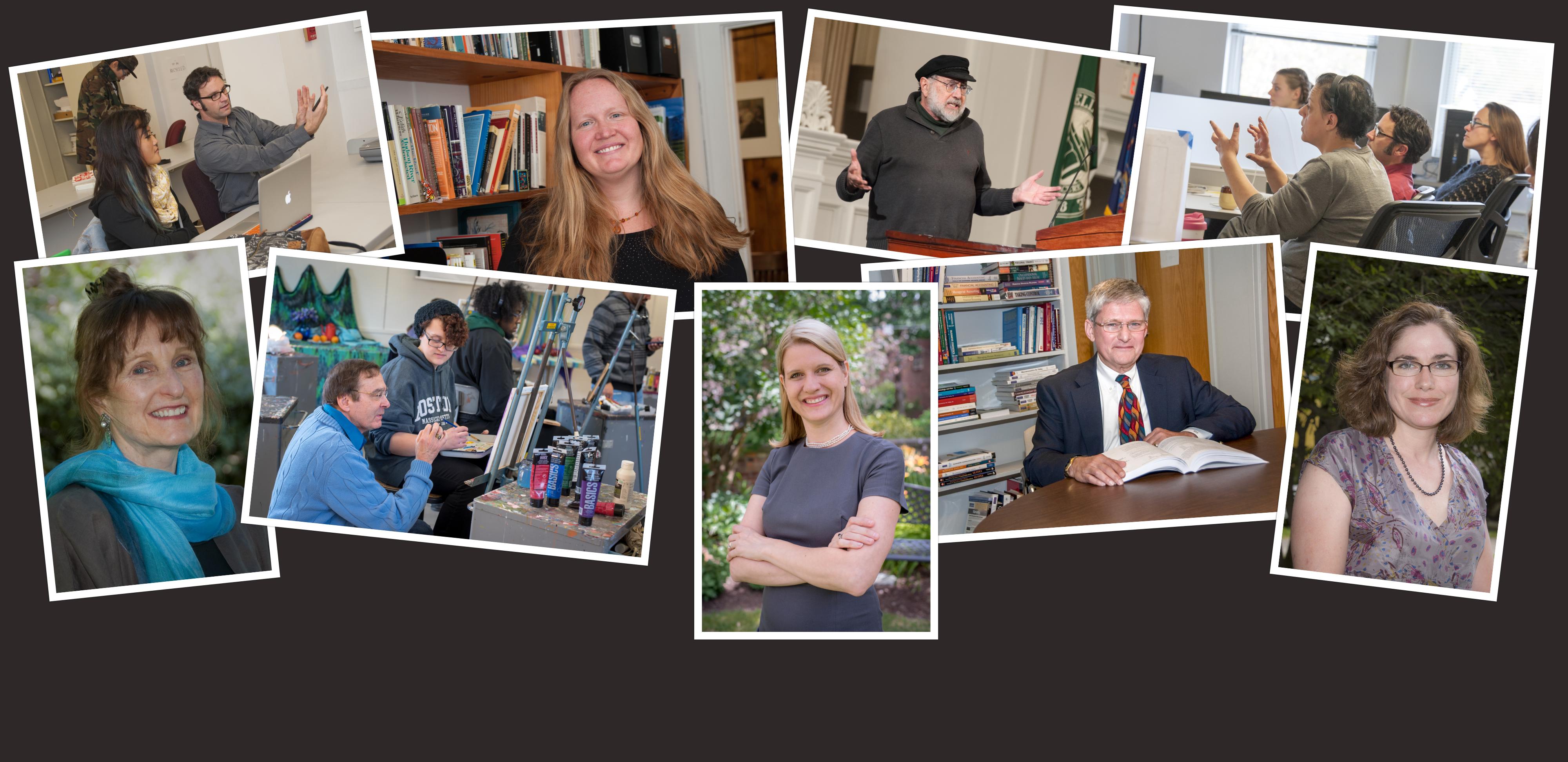 The Sage Colleges faculty members conduct research, write books and peer-reviewed articles for leading journals, participate in juried art exhibitions and hold leadership roles in professional organizations. Here are some highlights from 2018.
Open Books Publishing released Pilgrimage to Paris: The Cheapo Snob's Guide to the City and the Americans Who Lived There by Professor Emerita Jayne Boisvert, Ph.D., in fall 2018.
The Academy for Character Education at The Sage Colleges recognized Assistant Professor of Interior + Spatial Design Lynn Capirsello as a Champion of Character in spring 2018.
Ghost Writer, a collection of poems by Associate Professor of Art History Melody Davis, Ph.D., will be published in 2019 by Broadstone Books and her new research on two women collectors of Victorian "dirty jokes" in stereoscopic form appeared in the journal Stereo World in fall 2018. She presented "Women's Views: The Narrative Stereograph in Nineteenth-Century America" at Concordia University in Montreal and "A Woman's Pleasure — The Bawdy Caricature" at the Capital District Feminist Conference, Troy, New York, in January 2018; "The Audience for Narrative Stereo — Yesterday and Today," at the National Stereoscopic Association conference in Cleveland in July 2018; and "Women's Views: The Narrative Stereograph in Nineteenth-Century America," and "Stereo Verso: Reading Inscriptions and Legends in Historical Narrative Stereography" at St. Andrews University, Scotland, in October 2018.
Victoria Greenwood, M.S., RN-BC, assistant professor of nursing, completed the prestigious Edmond J. Safra Visiting Nurse Faculty Program offered by the Parkinson's Foundation. The rigorous program improves nursing care for people living with Parkinson's disease by training nursing faculty across the U.S. to educate nursing students. Greenwood, one of just 35 accepted faculty in 2018, joins an elite group of 228 Parkinson's Foundation Nurse Scholars who have completed the intensive training.
In April 2018, Associate Professor of Graphic + Media Design Sean Hovendick, MFA, received the Juror's Choice Award for work he exhibited in "Transformations," a juried exhibition at Eastern Kentucky University in Richmond. His work was also accepted for "Artists of the Mohawk Hudson Region" at the University Art Museum at the University at Albany; The Photo Review's 34th Annual International Photography Competition in Langhorne, Pennsylvania, juried by Sarah Meister of the Museum of Modern Art; and "In War and After: The Art of Combat Veterans" at Rocky Neck Art Colony in Gloucester, Massachusetts. In September 2018, his work appeared in "Land, Sea, Air," at fstopmagazine.com.
Sherman David Spector Professor in the Humanities and Professor of History & Society Steven Leibo, Ph.D., published the 2018-2019 update to his book, East and Southeast Asia. He co-edited the book Understanding Angry Groups: Multidisciplinary Perspectives on Their Motivations and Effects on Society with Professor Emerita Susan C. Cloninger, Ph.D., and he continues to serve as an associate in research at the Fairbank Center for Chinese Studies at Harvard University.
Assistant Professor of 2D Design and Extended Media Melinda McDaniel, MFA, was a panelist for a discussion entitled "Photography is Dead. Long Live Photography!"  at the University at Albany in February 2018.
Associate Professor of English Shealeen Meaney, Ph.D., received the 2018-2019 Ruth R. & Alyson R. Miller Fellowship from the Massachusetts Historical Society.The competitively awarded national research fellowship includes a residency at the society's renowned research library in Boston in summer 2019. Meaney's project, "Boston meets Brahmin: Massachusetts Women in Gandhi's India," will advance her ongoing research into the writings of American women who traveled to India in the late 19th and early 20th centuries.
Associate Dean, Honors Program Director and Associate Professor of English Tonya Moutray, Ph.D., presented "A Happy Enclosure: Remembering Cloistered Space" at the History of Women Religious in Britain and Ireland conference at the National University of Ireland, Galway, and "Austen's Abbeys and Catholic Fashion: Aesthetic Trends in the Regency Era" at the Jane Austen Society of North America meeting in Lake George, New York, both in June 2018.
"Chasing Light," an exhibit of oil paintings by Professor of Fine Arts Gary Shankman, MFA, was on display in fall 2018 at the Schacht Fine Arts Center Gallery at Russell Sage College. Shankman will have another solo show at the Little Gallery at Sage College of Albany in spring 2019.
The Institute of Management Accountants honored Assistant Professor of Accounting Gerald Silberstein, Ph.D., CPA, with two Lybrand Awards for Literary Excellence. Silberstein's articles, "Prediction of Hospital Inpatient Charge Levels at Admission for Individual Cases" and "Predictions of Charges of Individual Hospital Cases and a Method for Selecting Cases for Review" appeared in the spring 2017 and winter 2018 issues of Management Accounting Quarterly, respectively. Silberstein is the first solo author to win the award twice in a fiscal year. The awards were presented at the IMA's 2018 conference.
Assistant Professor of Physical Therapy Rupali Singh, Ph.D., presented "The Effect of Adapted Walking Program on Fatigue Levels in People with Type 2 Diabetes" at the American Physical Therapy Association's Combined Section Meeting in New Orleans in February 2018.
Professor of Writing & Contemporary Thought Jeffrey Soleau, Ph.D., presented "Re-imagining Human Beings and Our Place in the Natural World" at the International Conference on New Directions in the Humanities at the University of Pennsylvania in July 2018.
"New Jersey and the War of 1812" by Professor of History Harvey Strum, Ph.D., appeared in Garden State Legacy in September 2018. "New York and the End of Mr. Madison's War" appeared in The National Social Science Association Journal in March 2018; and "Saving Mr. Tompkins' War" appeared in the War of 1812 Magazine in April 2018. Strum delivered a paper on Canadian and American aid to Ireland during the Great Hunger at the Northeastern Political Science Conference in Montreal in November 2018; "Paper was Constellation's Errand of Mercy in 1880" at the New York State Political Science Conference at Wagner College in April 2018; and "Impact of World War I on the Jews of the Capital District" at Congregation Bnai Sholom in Albany in January 2018.
Prescriptive Memories in Grief and Loss: The Art of Dreamscaping by Professor of Occupational Therapy Barbara Thompson, OTD, LCSW, OTR/L, and Nancy Gershman, was published by Routledge in December 2018.