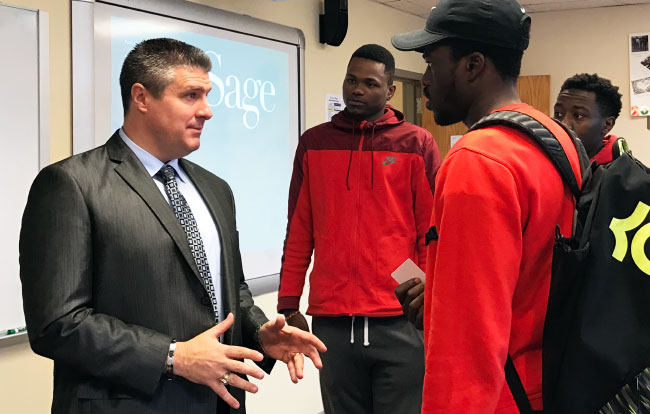 TROY & ALBANY, N.Y. — The Sage Colleges is pleased to announce a new Sport and Recreation Management Bachelor of Science degree program. The program consists of courses designed to integrate knowledge and skills from business, sport and recreation leading to careers in the increasingly competitive sport and recreation industry.
The program is up and running, and accepting students for the upcoming fall 2017 semester. It is based at Sage College of Albany.
"New programs bring excitement and promise to institutions and we are expecting our students to be energized and engaged as they begin their studies and see themselves as a professional in the sports' industry," said Eileen Vlacanich Brownell, Ph.D., Chairperson and Program Director at Sage's School of Management.
About the Program
The program, part of Sage's School of Management, is for students interested in pursuing entry-level management careers with professional and minor league sports teams, collegiate-level athletic departments, private and public fitness facilities, club-level athletic teams, town parks/departments and entrepreneurial opportunities such as a sport agent.
Learning in the program is interactive. In addition to coursework and skills-based preparation, students will connect with sports professionals through guest speakers and complete an internship. Current partnerships include: WTEN –TV Sports (ABC/Channel 10), Brockton Rox in Boston, Mass., Times Union Center, Miami Heat, Adirondack Thunder Hockey in Glens Falls, N.Y., and Tri-City ValleyCats baseball in Troy, N.Y., among others.
Graduates may decide to pursue advanced-level coaching careers or work within private sport companies in a variety of roles. Interested students may also seek acceptance and matriculation into the School of Management's MBA program when they apply.
Learn More/Apply
To learn more about Sage's Sport and Recreation Management program, visit www.sage.edu/srm or contact Brownell at 518-292- 1761 or [email protected].
Apply online at www.sage.edu/apply.
About Sage
Interdisciplinary academics, combining the professions and the liberal arts, community engagement, international exposure, and artistic and athletic endeavors are among the pillars of the educational experience at The Sage Colleges. Sage enrolls more than 3,000 students in bachelor's, master's and doctoral programs at the undergraduate Russell Sage College for women in Troy, N.Y.; the coeducational undergraduate Sage College of Albany in Albany, N.Y.; and the graduate-level Esteves School of Education, School of Health Sciences and School of Management, with programs on both campuses; adult education through Sage Professional and Continuing Education and via the Internet through Russell Sage Online.