Michael Gallo, Ph.D., Delivers Centennial Lecture
Albany, NY – The Sage Colleges welcome renowned toxicologist Michael Gallo, Ph.D., to speak about his research on risks associated with environmental chemicals such as PCBs and dioxins, and his work developing therapies to respond to chemical terrorism, at the Centennial Lecture on Tuesday, April 11 at 7 p.m. in the Armory at Sage.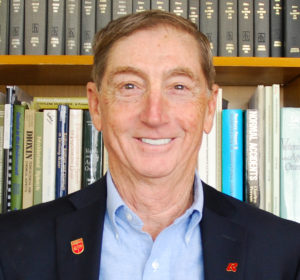 A graduate of Sage Evening College, Gallo is professor emeritus of environmental and occupational medicine at Rutgers University's Robert Wood Johnson Medical School and an investigator with their CounterACT Research Center of Excellence, which designs therapies to counteract chemical terrorism.
His research areas include dioxins; experimental models; pharmacology and toxicology; ocular toxicity; cytoplasmic receptors; hormones; mechanisms of carcinogenesis; cell surface receptors; and chemical carcinogenesis. His most recent publication dealt with the effects on the eyes of mustard gas exposure – commonly seen in chemical terrorism.
Gallo studied biological sciences at Sage, self-designing his bachelor's degree while working at laboratories at the former Sterling Winthrop, at Albany Medical Center, and at the State University of New York. He also pursued a minor in history; his avocation is the history of toxicology. Following Sage, he earned his Ph.D. from Albany Medical College.
A Diplomate of the American Board of Toxicology and a Fellow of the Academy of Toxicological Sciences, Gallo is a founding member of the Environmental and Occupational Health Sciences Institute where he served as director of toxicology, and as director of the National Institute of Environmental Health Sciences (NIEHS) Center of Excellence. He was founding director of the Cancer Institute of New Jersey and associate dean for research. He also chaired the New Jersey Governor's Pesticide Control Council and New Jersey Cancer Risk Commission. He served as an expert with the National Academy of Sciences, Engineering & Medicine, and as a consultant to the academic, government and private sectors.
The Centennial Lecture is sponsored by the Sage Alumni Association; in 1979, Gallo was presented with the Outstanding Graduate Award. Gallo's daughter, Colleen Gallo, is a graduate of Russell Sage College.
EXPERT SOURCE: Dr. Gallo is available to discuss environmental toxins such as PCBs or dioxins, or efforts to develop antidotes to chemical agents used in terrorist attacks. For an interview, contact: Shannon Gorman, (518) 244-3142 or email [email protected].