Russell Sage College to "Go Red for Women" on February 2nd
Wearing Red, Students, Faculty and Staff to Join
President Susan Scrimshaw on Steps of Bush Memorial Hall at 12:30 p.m.
WHO:
Dozens of Russell Sage College students, faculty and staff, including Susan Scrimshaw, President of The Sage Colleges.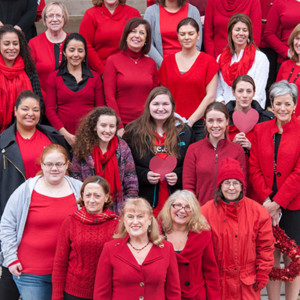 WHAT:
The gathering is part of the American Heart Association's "Go Red for Women" campaign. This national initiative raises awareness that heart disease is the number one killer of women, responsible for one in three deaths. As an all-female college, this is the sixth year Russell Sage has been organizing this event, to educate students about the risk of heart disease.
WHEN:
12:30 p.m.; Thursday, February 2, 2017
WHERE:   
Bush Memorial Hall (front steps)
55 First Street, Troy, NY
WHY:  
According to the American Heart Association, a woman dies every minute from heart disease. As an all-female college, Russell Sage is committed to educating young women, including ways to live healthy lives. This event is also a celebration of the college's employee wellness program, which includes an annual fitness challenge to earn an extra day off; free fitness classes and a "Couch to 5K" running club.
*NOTE: In addition to the "Go Red" photo, beginning on the evening of February 2nd, Bush Memorial Hall will be lit up in red lights for the month of February, to continue raising awareness about heart disease in women.